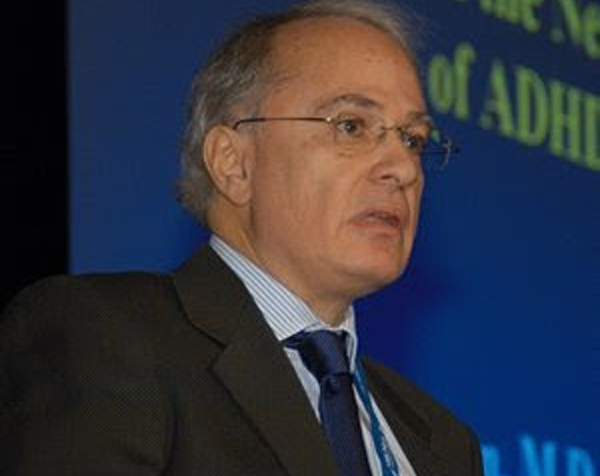 "Psychiatrist Joseph Biederman had been under a U.S. Senate investigation in 2008 for earning at least $1.6 million in consulting fees from drug makers yet had failed to report all but about $200,000 of this income to Harvard university officials.  A CCHR delegation met with the President of the WPA Professor Pedro Ruiz on Sunday, who agreed that Dr. Biederman's conflicts of interest violations, investigated by the U.S. Senate, and concerns about potential biased antipsychotic drug studies, made it inappropriate for him to have addressed the Congress."
By Kelly Patricia O'Meara
September 19, 2014
Citizens Commission on Human Rights (CCHR) filed a complaint with the World Psychiatric Association (WPA) about controversial U.S. psychiatrist, Dr. Joseph Biederman speaking at its World Congress being held in Madrid (September 14-18). A CCHR delegation met with the President of the WPA Professor Pedro Ruiz on Sunday, who agreed that Dr. Biederman's conflicts of interest violations, investigated by the U.S. Senate, and concerns about potential biased antipsychotic drug studies, made it inappropriate for him to have addressed the Congress.
In the complaint that Prof. Ruiz, a psychiatrist, read, CCHR detailed how Dr. Biederman, professor of psychiatry, had been under a U.S. Senate investigation in 2008 for earning at least $1.6 million in consulting fees from drug makers yet had failed to report all but about $200,000 of this income to Harvard university officials. In 2011, Massachusetts General Hospital (MGH) imposed a one-year ban from industry-sponsored outside activities. For a further two years he was required to obtain permission from MGH and Harvard Medical School to engage in such industry-sponsored activities.
Biederman's research advocated pediatric Bipolar Disorder while he was on the payroll from pharmaceutical giant, Johnson & Johnson, assuring the drug-maker in advance that a proposed trial on preschool age children of its antipsychotic, Risperdal (risperidone), would yield results that would benefit the company. The New York Times reported this and that a 40-fold increase in American children being labeled with "Bipolar Disorder" was fueled by Biederman's work. Coinciding with this was a rise in children and adolescents being prescribed antipsychotics known to cause diabetes, heart problems and gynecomastia (male breast growth) in children.
Many believe that it is due, in part, to Biederman's questionable research that from 1993 through the first three months of 2008, 1,207 children given Risperdal in the U.S. suffered serious problems, including 31 who died.
CCHR said it is difficult to ignore the death of Massachusetts 4-year old, Rebecca Riley, who died from an overdose of psychiatric drugs, including an antipsychotic prescribed to treat Biederman's childhood bipolar disorder. Riley's psychiatrist, Dr. Kayoko Kifuji said she was influenced by Biederman's work and was not held responsible for Rebecca's death.
Justina Pelletier Plight Ignored by WPA
CCHR's complaint also referred Prof. Ruiz to concerns about another speaker, Dr. Patricia Ibeziako, Boston Children's Hospital Director of Pediatric Psychiatry Consultation Service. Ibeziako has, of late, gained notoriety due to the enforced detainment of 15-year-old Justina Pelletier. The teenager was admitted to Children's Hospital in February 2013, suffering from a rare medical condition only to be labeled with an obscure psychiatric disorder, Somatoform—essentially a disorder that suspects that any physical complaint that can't be medically explained, could be "all in your mind." Ibeziako addressed the WPA Congress about somatoform. Ibeziako co-authored a study about somatoform disorder with Simona Bujoreanu, the psychologist who first suggested Justina had somatoform.
The hospital's psychiatric unit refused to accept Justina's medical condition and the teenager was held at the unit and in other facilities against her will and against her parents' wishes for sixteen months. Justina's story gained national and international attention and only because of pressure by the parents, lawyers and community groups was Justina finally released into the care of her family and medical doctors earlier this year.
The treatment of Justina Pelletier at the hands of Boston Children's Hospital, with consultation of Ibeziako's psychiatric team, elicited such a public outcry that lawmakers rallied to introduce "Justina's Law," currently pending in Congress to pass which would prohibit federal funding for medical research on children under state care.
The theme of the WPA Congress is "Access, Quality and Humane Care." CCHR said it was pleased that Prof Ruiz recognized the problems of having psychiatrists speak with such noted conflicts of interest as those raised in the CCHR complaint.
–
Kelly Patricia O'Meara is an award-winning former investigative reporter for the Washington Times' Insight Magazine, penning dozens of articles exposing the fraud of psychiatric diagnosis and the dangers of the psychiatric drugs—including her ground-breaking 1999 cover story, "Guns & Doses," exposing the link between psychiatric drugs and acts of senseless violence. She is also the author of the highly acclaimed book, Psyched Out: How Psychiatry Sells Mental Illness and Pushes Pills that Kill. Prior to working as an investigative journalist, O'Meara spent sixteen years on Capitol Hill as a congressional staffer to four Members of Congress. She holds a B.S. in Political Science from the University of Maryland.