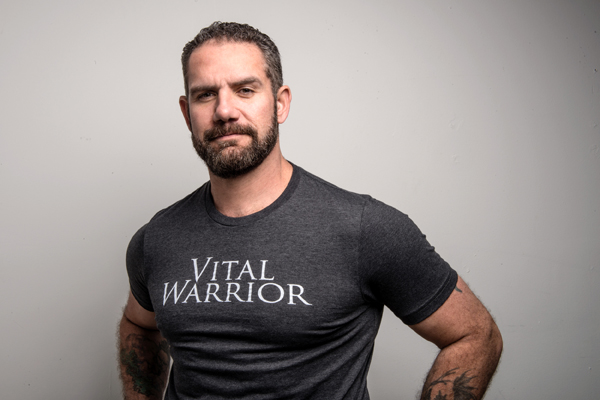 "I survived all this shit in Iraq and everywhere else and then they nearly took me out with pills." — Mikal Vega
"Veterans are killing themselves at a rate of 22 a day—one every 65 minutes. They say it's because of the stresses of war, but 85 percent of military suicides never even saw combat. One in six American service members is on at least one psychiatric drug—antidepressants or powerful antipsychotics" — Mikal Vega
Los Angeles Magazine – July 28, 2014
By Anne Taylor Fleming
I have spent all my life within walking distance of the Veterans Administration's huge West Los Angeles Medical Center. The original purpose—it was founded in 1888 as the Old Soldiers Home—was to provide veterans with a place to recover from the rigors of battle. I have watched some of the buildings crumble as new wars came, bringing another group of the injured. I always felt a bit ashamed as I passed the property because it appeared lonesome and unkempt and because in recent years I haven't known anyone who has served. Now, in the wake of the current scandal engulfing the VA—questions about long wait times, inadequate treatment for those suffering from post-traumatic stress disorder—I went looking for a young returnee who could tell me what it was like to be in the system. I found an impassioned critic in Mikal Vega, a former navy SEAL who served two tours in Iraq and, once back in the United States, made the rounds searching for help, including at the facility up the road from me.
In person it's hard to ignore Vega, who, at six feet two, with an imposing head and massive chest, is big in an action-hero way. Then there are the tattoos: three dragons and the archangel Michael. Vega's eyes flash as he glances around, which he does as he approaches me in the restaurant where we've agreed to meet. Vega immediately plunges into a pained analysis of what he views as a broken system. Locally the VA has become a campaign hot button for aspiring county supervisor Bobby Shriver, who's determined to address the plight of homeless vets in L.A. County, which has the largest population in the country—roughly 6,300. We can't seem to figure out how to house them, even with all those empty structures dotting the almost 400 acres at the West L.A. campus. Then there are the lengthy delays for appointments—90-plus days at some facilities around the country—and the deaths, 18 in Phoenix alone, that have resulted. Patients using our VA hospital wait an average of 56 days for a first appointment with a primary care doctor, far more time than the department's stated goal of two weeks. Most troubling, though: Someone needing to see a mental health specialist has to hold on for 39 days, which is a long, hard breath if you are feeling unhinged and hopeless.
But for Vega, 42, the VA's biggest failing is the heavy hand with which it doles out narcotic painkillers and psychoactive drugs. He says he was pushed to the brink by the various prescriptions. "I survived all this shit in Iraq and everywhere else," he tells me, "and then they nearly took me out with pills. Veterans are killing themselves at a rate of 22 a day—one every 65 minutes. They say it's because of the stresses of war, but 85 percent of military suicides never even saw combat. One in six American service members is on at least one psychiatric drug—antidepressants or powerful antipsychotics."
Watch the video "Former Navy SEAL on Psychiatric Drugging of our Military":
As an alternative, Vega put together his own healing regimen. We're talking yoga, acupuncture, and meditation, and he speaks about the efficacy of these modalities with confidence. His belief in them is shared by Dr. Jonathan Sherin, a psychiatrist who spent eight years at the West L.A. VA and was head of its mental health services from 2009 to 2010. In that time Sherin pushed for more integrative models of treatment. "Our society—the VA and beyond—is focused on treating mental and physical injuries with pharmaceuticals," says Sherin, who's now the chief medical officer at Volunteers of America. "Opioids can be effective in the short term, but they are not a solution. We have an epidemic of younger folks who are becoming addicted to them. We need to be thinking of treatments for pain, physical and mental, outside of pharmacology."
That's precisely what Vega hopes to do through his two-year-old organization, Vital Warrior, which treats the wars' walking wounded while drawing attention to what he sees as the drugging of the military.
During Vega's first tour in Iraq in 2004, an IED exploded next to his Humvee. He suffered a neck injury that went undiagnosed. The military started giving him pills, he says. Major painkillers. He came home for six months and returned for a second tour in 2006 as the leader of a platoon that accompanied SEAL Team 8. You can sense the pride when he talks about his service and his men. But by the time he came home again, he was a mess.
"When I returned, everything was weird," Vega says. "The silence was literally deafening. It was so quiet. It drove me nuts. How do you take somebody and let them be as primal as they need to be and then bring them back and go, 'OK, knock it off'? Some guys are great at it. I wasn't that guy. That's when the shrinks came into the game. They gave me Adderall and more pain pills and sleeping pills so powerful, they would only give me four at a time."
Vega moved his family—his third wife and his son—to California from Virginia Beach, where he was raised. They first lived in San Diego, where he had surgery on his neck at the VA hospital. The doctors prescribed him even stronger pain medication. He thought he was going crazy. "I felt like I was about to explode," he says. "I knew it would take just the right little thing and I was going to be in a clock tower shooting bad people. I've got to tell you, it was the worst place I've been."
He boycotted the VA and slowly got off all the pills, dose by dose, a self-administered detox. He sought out the things that made him feel better. He started with the hands-on therapy known as myofascial release, a firm, sustained massage that helps unleash emotions. Next came acupuncture and Bikram yoga and meditation. Finally Vega adopted the most comprehensive of yoga disciplines, kundalini, with its concentration on postures and breathing and "connecting to the universal life force." A search for a teacher brought him to Los Angeles and an instructor, Harijiwan, whom Vega reveres. His next guru was David Berceli, the founder and CEO of Trauma Release Services, which promotes exercises that cause the body to shake or tremble, thus discharging stress.
Listening to Vega talk is captivating because of the wild, enthusiastic, needy, gulping quality of his quest, the warrior turned inside out—or rather outside in. Vega says he has worked with about 50 vets so far. They found him through a Web site called VetNet, which helps soldiers transition to civilian life. How, I ask, does he get these battle-scarred toughies to listen to his message? "If I go in and say, 'Guys, we are going to do some breath work and then connect with our true selves through meditation and mindfulness,' they'd be like, 'Kiss my ass.' Instead I say, 'You're all warriors, right?' They say, 'Hell, yes!' And I say, 'A warrior is someone who understands the balance of creation and destruction. Look at the American Indians with their spirits, and at the samurai—meditation was inherent to everything they did. If you would just put away the ego and deprogram what you think is weak, you can be twice as powerful.' And then I kick them in the balls with some serious stretches and exercises, like holding your arms up for 62 minutes."
Sherin says the VA is beginning to employ some of these alternative therapies. He admits the bureaucracy is "not very creative or nimble" but adds that terrific, caring people work there. I have to agree. My late husband, Karl, was a navy vet—he caught the tail end of World War II—and in the final years of his life he occasionally made use of the VA's medical services. In the large communal waiting room there were mostly graying men, the majority of them from the Vietnam era, bearing the scars, literal and figurative, of that unpopular war. I was touched by their patience—endless sitting in a depressing hall. Once we got into the swing of things and Karl was assigned his doctors, the care was pretty darn good, though I worked the system diligently, making countless phone calls, attending to the schedule, getting prescriptions filled. At that point Karl could never have done all that for himself, and I felt bad for the many people there who didn't have advocates.
At our lunch Vega talks about the bright spot in his life. He's putting together a nice acting career—having appeared in Transformers 3 and 4—and wishing that he can make enough money to fund "decompression centers" to help veterans learn the methods that helped him. I smile at his New Age swagger and root for him, the soldier guru. Now whenever I pass the VA, which I do at least ten times a week, I salute him and the others I saw there, hoping all the current scrutiny shakes up the place.
http://www.lamag.com/citythink/opencity/2014/07/28/the-good-soldier-mikal-vega