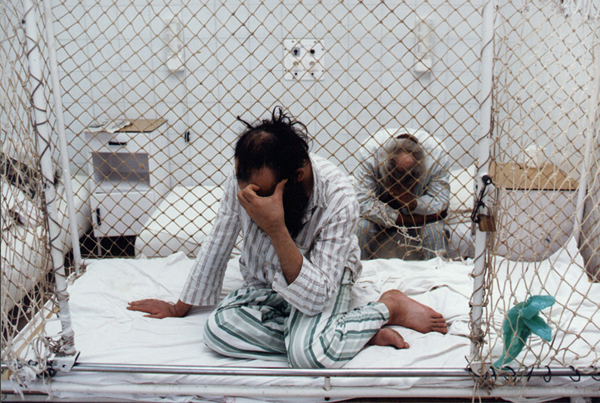 "It is a feeling like you were closed, as if you were an animal. As if you weren't a human. They treat you as someone even lower than an animal." — psychiatric victim of cage bed use
Mental Disability Advocacy Center (MDAC) – June 30, 2014
Despite international outcry ten years ago, people are still caged and strapped in psychiatric hospitals throughout the Czech Republic. Later today, MDAC launches a damning report calling for urgent action to stop these barbaric practices, in conjunction with our Czech partners the League of Human Rights.
Ten years ago MDAC exposed the horror that people were being kept in cages in Czech psychiatric institutions: the issue gained international attention, including the intervention of author JK Rowling.
MDAC recently returned to the Czech Republic to see what has changed. The answer? Very little. Metal cages have been substituted by netted cages. Hospitals that have withdrawn cages use leather straps to restrain patients instead. Chemical sedation and solitary confinement are widespread. Children are subject to seven-point restraints attached to both arms, legs, shoulders and the child's torso.
"People with mental health issues deserve support and care, not abuse and punishment," said Oliver Lewis, MDAC Executive Director. "Substituting cages with other coercive practices is both unacceptable and unnecessary: the Czech authorities should ban these specific forms of coercion and bring its mental health system into the modern era."
MDAC human rights defenders gained access to eight large hospitals. They found that cage beds were often used to manage elderly patients because of a lack of staff, and to punish 'bad' behavior. Patients were put into cages, a nurse said, when they "get naughty, break stuff, make stuff dirty." MDAC found widespread support for cages among mental health staff and little willingness to change, making legal action imperative.
A victim of cage beds told MDAC:
"It is a feeling like you were closed as if you were an animal. As if you weren't a human. They treat you as someone even lower than an animal."
Dr. Pétur Hauksson, psychiatrist and former First Vice President of the European Committee for the Prevention of Torture, led MDAC's monitoring mission to the Czech Republic. He said:
"Ill-treatment is a persistent beast. Cage beds are a degrading experience for the user, and considered ill-treatment by many observers. The only way is a total prohibition of specific forms of coercion."
Juan E. Méndez, the UN Special Rapporteur on Torture, has said:
"There can be no therapeutic justification for the use of solitary confinement and prolonged restraint of persons with disabilities in psychiatric institutions."
http://www.mdac.info/en/news/torture-and-ill-treatment-banned-under-international-law-still-evident-czech-republic