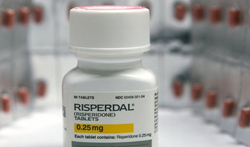 The Legal Examiner
February 27, 2014
By Roopal Luhana
It is one of the largest health care fraud settlements in United States history. Janssen Pharmaceuticals Inc., and Johnson & Johnson, the parent company of the antipsychotic drug, Risperdal, will pay more than $2.2 billion in criminal and civil investigations.
It was alleged that from March 2002 until December 2003, Janssen Pharmaceuticals Inc., promoted Risperdal for use in patients with dementia, which is not an FDA-approved use. Janssen admitted in a plea agreement to promoting the drug in this way.
According to the FDA, doctors may use a drug to treat patients for symptoms and disease even when the drug is not approved for that use, but if a pharmaceutical manufacturer promotes the drug for off-label use—it's a violation of the law.
Janssen Pharmaceuticals Inc. is also accused of promoting Risperdal for use in people with mental disabilities, including children.
According to The United States Department of Justice, "The complaint alleges that J&J and Janssen knew that Risperdal posed certain health risks to children, including the risk of elevated levels of prolactin, a hormone that can stimulate breast development and milk production."
It also alleged that Janssen knew that Risperdal caused an increased risk of developing diabetes for patients on the drug.
Risperdal Linked to Serious Side Effects
A 2006 article released by Duke University Medical Center found that there may be a link between pituitary tumors and the use of antipsychotic drugs.  Out of seven of those types of medications, Risperdal was connected to 70% of pituitary tumors reported to the FDA.
When your pituitary gland is enlarged it can lead to other issues.  It can cause vision problems, headaches, and bleeding.  Other side effects reported included 796 cases of increased prolactin levels, 630 reports of breast milk production in adults and children, and male breast development, or gynecomastia.
In 2009, another study found that even after two years of stopping treatment with Risperdal, prolactin levels remained elevated for children and adolescents.
As discussed by the United States Department of Justice, Risperdal has also been linked to an increased risk of diabetes. A study published in JAMA Psychiatry found that children and adolescents had a "3-fold" increase of developing type 2 diabetes.
http://newyork.legalexaminer.com/fda-prescription-drugs/risperdal-parent-company-to-pay-2-2-billion/