By Kelly O'Meara
February 5, 2014
Citizens Commission on Human Rights (CCHR), celebrated its 45th Anniversary and Human Rights Awards Banquet on February 1st, in Los Angeles, honoring courageous individuals who refused to sit idly by in the face of mental health abuses.
The awards ceremony highlighted each of the award winners' efforts in the field of mental health reform, embodying the mission of CCHR to bring about an atmosphere of safety and security in the field of mental health by eradicating its abuses and brutality. The 2014 award winners met that challenge head-on.
Coinciding with CCHR's recently released documentary, The Hidden Enemy, which reveals in great detail psychiatry's infiltration, and abuses, of the nation's military forces, CCHR honored several individuals who became advocates for those abused by psychiatrists in the military.
Retired Chief Petty Officer, Navy SEAL and twice awarded the Bronze Star Medal with Valor, Mikal Vega, survived missions in Iraq, Haiti, Bosnia, Kosovo, Zaire and Albania. Vega was indestructible until, as he says, "After 22 years of kicking death's ass, it was a cocktail of pills that nearly took me out."
In accepting CCHR's Human Rights award, Vega explained it was his sheer willpower that allowed him to wean himself off the drugs and launch a non-profit organization, Vital Warrior, to help other veterans without the use of stigmatizing psychiatric labels or mind-altering drugs.
Vega said, "Today, for me, the battlefield has changed. Instead of fighting me for a nation in need of liberation, I am engaged in a war against the lethalness of ignorance. An ignorance psychiatrists rely upon, that has us programmed to believe that what we need is something other than ourselves to make us whole. That we need a psychiatrist—and a pill. It is a form of slavery."
Another warrior, battling on the home front, is award recipient Allison Folmar, an attorney who has defended those who have faced the greatest injustice: children forcibly taken from their parents for refusing to give their child a dangerous, potentially life-threatening psychiatric drug under the fraudulent charge of "medical neglect."
In the face of great adversity, Folmar took up the mantle for Detroit mother, Maryanne Godboldo. Nearly three years ago, Godboldo withstood an armed assault by a SWAT team and a tank for refusing to give her daughter a harmful, potentially lethal antipsychotic drug.
Another mother, Kim Gee from Buffalo, New York, was also going through Child Protective Services hell, losing her child to state authorities on charges of "medical neglect," for simply refusing to give her daughter a powerful antipsychotic drug, Risperdal.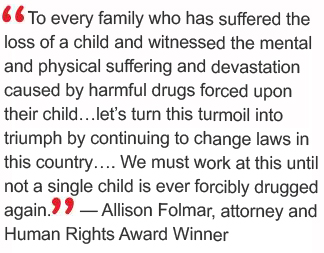 Like so many who've acknowledged Folmar's incredible sense of justice and extraordinary efforts, Gee recalled that, "she knew I had a little girl who was unlawfully seized for a ridiculous, bogus reason and she listened to me. She said she'd get my daughter back and she did! She came in like the wind! She knew we were wronged and she was gonna make it right."
Much to her credit, Folmar's work on both of these lengthy cases was done pro-bono. Aware that the number of similar cases continues to increase, Folmar regrets she cannot take on every single case that comes to her and believes the only way to handle the epidemic of children being unlawfully force drugged is to focus on enacting state and federal laws that prohibit children from being unlawfully seized under the guise of "mental health" interests.
Due to Folmar's work in exposing the illegal seizure of Maryanne Godboldo's daughter prompted by Child Protective Services, Michigan Child Protective Services changed its rules and will no longer investigate parents for "complaints that allege parents are failing or refusing to provide their children with psychotropic medications…."
Award recipient, retired Army Colonel and military psychologist, Dr. Bart Billings, was honored for his decades-long devotion to military personnel harmed by psychiatry's excessive drugging regimen. Col. Billings was one of the first professionals to disclose the link between psychotropic drug use and military suicides.
Col. Billings founded an annual International Military and Civilian Combat Stress Conference to provide a venue to promote effective, integrative, alternative approaches to psychiatric drugs and damaging treatments. In his award acceptance, Col. Billings told the audience that, "Mental health cannot be achieved when one is given mind-altering drugs that directly interfere with their cognitive functioning, resulting in them being mentally incapable and, also in many situations, interfering with them meeting their basic human needs to survive."
Pat Mena, accepted her Human Rights award for her efforts to expose the lethal dangers associated with the excessive drugging of our Armed Forces and veterans. Mena's son, Tony, survived two tours of duty in Afghanistan only to become a victim of psychiatry's multi-drug "treatments".
In an 18-month period, Tony Mena was prescribed 35 prescription drugs, including 17 mind-altering psychiatric drugs. He died in his bed with the autopsy report revealing nine different medications in his system at the time of his sudden death.
Determined to make other service personnel aware of the psychiatric drug dangers, Pat Mena wrote a book about Tony's struggles, You'll Be Fine, Darling: Struggling with PTSD after the Trauma of War. Pat told the audience that, "In writing this book about my son's struggles, I have become Tony's voice."  Pat's heartfelt message is a wake-up call about the lethal dangers of chemically-overwhelming our Armed Forces.
In addition to the above award winners, Dr. Fred Baughman, Jr., was presented the Dr. Thomas Szasz Lifetime Achievement  Award for his significant work in combating coercive psychiatry and, specifically, for his tireless efforts to expose the "non-disease" Attention Deficit Hyperactivity Disorder (ADHD). CCHR honored Dr. Baughman as a brave doctor, a man of enormous personal integrity and a dear friend to CCHR and to all parents and children around the world and for his lifetime service to medical honesty and human rights.
Considered a "renegade" neurologist, Dr. Baughman has spent his life challenging neurologists and other medical specialists to condemn psychiatry's labeling and drugging, writing, "The Hippocratic Oath is being eclipsed by hypocrisy. When the other, non-psychiatric faculty members of the nations' medical schools say nothing of this fraud and poisoning, they are accomplices."
All of the Human Rights award winners can take great pride that they, like Dr. Baughman, stood tall in the face of outrageous mental health abuses.
—
Kelly Patricia O'Meara is an award-winning former investigative reporter for the Washington Times' Insight Magazine, penning dozens of articles exposing the fraud of psychiatric diagnosis and the dangers of the psychiatric drugs—including her ground-breaking 1999 cover story, "Guns & Doses," exposing the link between psychiatric drugs and acts of senseless violence. She is also the author of the highly acclaimed book, Psyched Out: How Psychiatry Sells Mental Illness and Pushes Pills that Kill. Prior to working as an investigative journalist, O'Meara spent sixteen years on Capitol Hill as a congressional staffer to four Members of Congress. She holds a B.S. in Political Science from the University of Maryland.