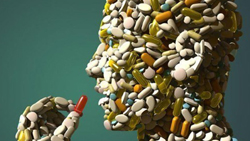 "Citizens Commission on Human Rights International reports there are 22 international drug regulatory warnings on psychiatric drugs, which include effects such as hostility, violence, mania, aggression and for a drug called Effexor, homicidal ideation."
Liberty Voice – January 25, 2014
By Kollin Lore
The Maryland mall shooting in Columbia on Saturday, which left four injured and three people dead, including the shooter who took his own life, comes just four months after U.S. Attorney General Eric Holder announced that the rate of mass shootings is increasing across the United States. What makes this fact even more alarming is that it coincides with an overwhelming increase in Americans taking prescribed psychiatric drugs. The shooting on Saturday and the many preceding incidences have yet to be linked to psychiatric drug use, but the data does raise questions.
According to American Psychological Association, there was an increase of 22 percent of adult Americans taking psychotropic drugs from 2001 to 2010, and one in five adults took at least one type of psychotropic medication. In 2010, more than $16 billion was spent on antipsychotics, $11 billion on antidepressants and for ADHD, $7 billion was spent on drugs to treat the condition.
The Defense Logistics Agency said that the overall use of psychiatric drugs increased by 76 percent, while use of antidepressants increased by 40 percent. These antidepressants carry the "Black Box" warning which is the most serious warning for a prescription drug by the FDA. It means that the pill can increase the risk of suicidal thoughts and behavior in children and young adults.
Citizens Commission on Human Rights International reports there are 22 international drug regulatory warnings on psychiatric drugs, which include effects such as hostility, violence, mania, aggression and for a drug called Effexor, homicidal ideation.
Statistics from The Federal Drug Administration MedWatch said that between 2001 and 2012 they received 14,773 reports made on violent side effects being caused by drugs. This included 3287 cases of mania, 1,531 cases of homicidal ideation, and 8,219 cases of aggression. It is estimated by the FDA that less than one percent of serious events were reported.
All of these alarming stats coincide with the increase of mass shootings in the U.S., Saturday's incident at Maryland Mall bringing the questions to the forefront. What is even more of a concern is the effects of drugs on the future of America. Award winning investigation journalist Kelly Patricia O'Meara reports that psychiatrists prescribe antipsychotics drugs to children in one-third of all visits, triple the amount during the 1990s. Moreover, 90 percent of prescriptions written between 2005 and 2009 were for something other than what was approved for them by the Food and Drug Administration. These anti-psychotic drugs are a concern as they can cut off normal brain function.
In addition, it is reported that 8.2 million children under the age of 18 are taking psychiatric drugs in the U.S. According to the Military Times, 17 percent of service members were taking some kind of psychiatric drug. The latest statistic in 2013 showed that 349 suicides occurred in the military in 2012, which was a record, the number surpassing the amount of combat deaths.
The Maryland Mall tragedy and the one too many mass shootings that preceded it raises once again the question of why someone in power is not seriously asking what is causing this violent behavior among Americans. How the increase in shootings coincide with these alarming stats of the increase of psychiatric prescribed drugs among Americans is something that should be of bigger concern and much more of a talking point across America. Now is a good time as any to ask as Americans recover from the tragedy at Maryland mall.
http://guardianlv.com/2014/01/maryland-mall-and-preceding-mass-shootings-coincide-with-alarming-stats/