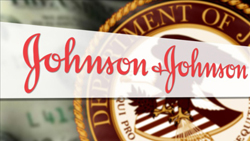 "J&J's promotion of Risperdal for unapproved uses threatened the most vulnerable populations of our society - children, the elderly, and those with developmental disabilities." - U.S. Attorney Zane Memeger of Pennsylvania's Eastern District
Philadelphia Inquirer –
November 14, 2013
The word pusher is normally reserved for street dealers, not legitimate pharmaceutical companies like Johnson & Johnson. But the New Brunswick-based corporation is only the latest caught pushing its legal drugs so aggressively as to run afoul of the law.
Last week, federal authorities announced that Johnson & Johnson had agreed to plead guilty to a misdemeanor and pay $2.2 billion to settle allegations that it illegally marketed its drugs for uses not approved by the Food and Drug Administration, employing a variety of underhanded means to encourage their misuse. According to federal authorities, these included "speaking fees" for doctors willing to write enough prescriptions and "educational fees" disguising kickbacks to the nation's largest nursing-home pharmacy.
Chief among the drugs at issue is Risperdal, an antipsychotic approved for the relatively limited use of schizophrenia treatment. Like other drugs in its class, Risperdal was illegally pushed as a means of sedating unruly patients, especially among the old, young, and disabled. U.S. Attorney Zane Memeger of Pennsylvania's Eastern District noted that "J&J's promotion of Risperdal for unapproved uses threatened the most vulnerable populations of our society – children, the elderly, and those with developmental disabilities."
Federal authorities say the FDA had warned Johnson & Johnson that some of the so-called symptoms being targeted, especially among elderly dementia sufferers, were actually "appropriate responses to the deplorable conditions under which some demented patients are housed, thus raising an ethical question regarding the use of an antipsychotic medication for inappropriate behavioral control." This is something like promoting the draconian methods of One Flew Over the Cuckoo's Nest's Nurse Ratched as a nationwide standard of care.
Eli Lilly's Zyprexa and Pfizer's Geodon have also been among the antipsychotics implicated in settlements worth more than a billion dollars. A report by the pharmaceutical benefits manager Medco found that adult use of antipsychotic medication increased 169 percent over the last decade.
So far, federal prosecutions of Johnson & Johnson and other companies haven't kept their crimes from paying. While $2.2 billion sounds like a lot, Risperdal's sales peaked at more than twice that in a single year. It could take stronger medicine to cure the drug giants of this conduct, such as greater financial penalties or prosecution of individual executives.
Some experts also point to a need to speed the FDA approval process and allow for conditional permission for new and promising uses. Further restriction of the companies marketing to doctors and patients also seems warranted.
The government's case against Johnson & Johnson is a long way from Baby Shampoo and Band-Aids, two of its wholesome signature products. But the company appears less than chastened by the Risperdal prosecution. The former head of Janssen Pharmaceuticals, the J&J subsidiary primarily implicated in the case, became the company's CEO last year. According to a Bloomberg profile, Alex Gorsky's "landmark achievements at Janssen include the commercialization of . . . Risperdal."
http://www.philly.com/philly/opinion/inquirer/20131114_Inquirer_Editorial__The_other_drug_pushers.html