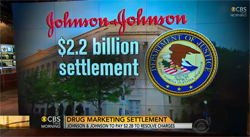 CBS This Morning – November 5, 2013
Anchor: Pharmaceutical giant Johnson & Johnson is resolving one of the biggest health care fraud cases in U.S. history.  The company will pay the justice department $2.2 billion after charges of false marketing for one of its most popular drugs. But as Bob Orr reports the massive settlement may not lead to much change.
Reporter: The justice department alleges Johnson & Johnson boosted sales by paying millions of dollars in kickbacks to pharmacists and doctors who pushed the drug Risperdal to patients who did not need it. Risperdal was approved by the FDA to treat schizophrenia but US attorney Carmen Ortiz said Risperdal was widely prescribed for unapproved uses.
Carmen Ortiz: The company promoted it and sold it and induced others to buy it through kickback schemes and other inducements to treat the elderly, who were suffering from Alzheimer's or other forms of dementia, to treat children and also to treat the disabled.
Reporter: Doctors are permitted to prescribe medicines for virtually any use. The pharmaceutical companies cannot promote their drugs for treatments, beyond those approved by the Food and Drug Administration. Critics say big drug companies look at justice department fines simply as the cost of doing business.
David Stone (Stone & Magnanini Attorney): It's really like a tax to these companies to pay this money ten years later, while they've already been telling the drugs for ten years and reaping those profits. So it's not enough of a disincentive for them to stop this behavior.
Reporter: In paying more than $2 billion, Johnson & Johnson resolves criminal and civil allegations involving the marketing of Risperdal and two other drugs. The company denied many of the government's allegations, but in a statement it says it remains committed to working with the US Food and Drug Administration to ensure greater clarity.  It's the third largest pharmaceutical fraud settlement in the past 5 years. Pfizer paid $2.3 billion in 2009 and GlaxoSmithKline paid $3 billion in 2012 to settle similar claims. Attorney General Eric Holder said drug manufacturers must pay a price for putting profits ahead of public welfare.
AG Eric Holder: The alleged conduct is shameful and it is unacceptable. It displayed a reckless indifference to the safety of the American people.
Reporter: For "CBS this Morning," Bob Orr in Washington.