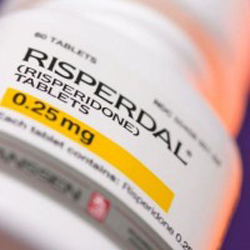 "Thirty-one children died and more than 1,200 children suffered serious health problems after taking Risperdal between 1993 and 2008. Cardiac arrest or stroke was the stated cause of death in most cases."
Injury Lawyer News – 30 August 2013
By Jenn Fusion
The RT News Network reports that psychiatrists prescribe antipsychotic drugs like Risperdal and Abilify to children in one third of all visits – a rate three times higher than during the 1990s. They go on to say that 90 percent of these prescriptions are for "off-label uses" like Attention Deficit Hyperactivity Disorder, rather than for schizophrenia. Regardless of whether or not these prescriptions work to curb unwanted behaviors, recent investigations have revealed Risperdal side effects in children that are life-altering and sometimes fatal.
Risperdal side effects include serious weight gain
Thirty-one children died and more than 1,200 children suffered serious health problems after taking Risperdal between 1993 and 2008. Cardiac arrest or stroke was the stated cause of death in most cases.
Weight gain is one of the most commonly reported Risperdal side effects in children. In 2011, an FDA advisory panel recommended monitoring of Risperdal and other drugs in its class after a study published in the Archives of General Psychiatry found that patients gained 11 to 13 pounds after taking antipsychotics for just six to eight weeks. Some children gain weight at a rate of five pounds per week.
The NY Times tells the story of a boy on Risperdal who weighed 49 pounds on his third birthday, which is nearly 20 pounds overweight for a child of that age. Along with the weight gain comes other problems, such as high cholesterol, insulin resistance and diabetes.
A University of Massachusetts study found that kids taking antipsychotics were four times more likely to develop diabetes. A child's risk of developing diabetes is tripled within the first year of use, according to another study published Aug. 21 in the journal JAMA Psychiatry.
Other common Risperdal side effects
The most common reported Risperdal side effects in clinical trials (involving more than 5% of users) included:
    Parkinsons-like Tremors
    Dizziness
    Sedation
    Insomnia
    Anxiety
    Dry Mouth
    Nasal Congestion
    Upper Abdominal Pain
    Dyspepsia
    Diarrhea
    Nausea & Vomiting
    Weight Gain
    Fatigue
Some people taking the drug discontinued it due to nausea, somnolence, sedation, vomiting and restlessness.
Most life-altering side effect: Risperdal male breast growth
Johnson & Johnson is currently facing a number of lawsuits involving Risperdal male breast growth claims. The plaintiffs allege that the drug maker failed to warn users that boys can develop a medical condition known as gynecomastia, which may require surgical breast removal. In some cases, boys have developed breasts as large as a 38D cup size after using Risperdal.
The first Risperdal lawsuit, involving 21-year-old plaintiff Aaron Banks, was set for trial in Pennsylvania last year. Banks alleged that, after taking Risperdal from 1999 and 2004, his breasts grew so large he suffered mental anguish and required surgery to remove them. The discovery process revealed that Risperdal stimulated the production of prolactin, a hormone released by the pituitary gland that stimulates breast development.
Before the case could begin in court, Johnson & Johnson settled the lawsuit for an undisclosed amount. According to Bloomberg News, over 400 similar cases have been filed in U.S. courts. In a separate suit, J&J agreed to pay $181 million to clear up claims by 36 states that they promoted Risperdal for unapproved, off-label uses.
http://injurylawyer-news.com/2013/08/risperdal-side-effects-include-male-breast-growth/