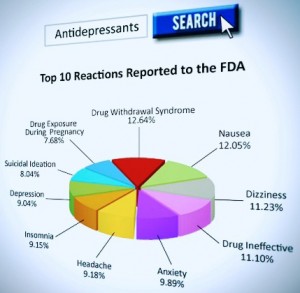 "CCHR painstakingly created the definitive guide to documented psychiatric drug side effects, taking the official FDA adverse reaction reports, international drug regulatory agency warnings and studies, then summarized the often complex information into an easy, user-friendly format for consumers, researchers and policy makers."
PRWeb
August 14, 2013
With one in five Americans currently taking prescribed psychiatric drugs (according to Medco Health Solutions), the mental health watchdog, Citizens Commission on Human Rights (CCHR), is concerned the public are not being accurately informed of the documented risks. Taking its commitment to inform and protect the public on mental health issues to a new level, CCHR has launched a comprehensive redesign of its website (https://www.cchrint.org) and enhanced drug database which features 211 psychiatric drug regulatory agency warnings, 223 studies, and over 400,000 adverse reactions reported to the US FDA by doctors, pharmacists, health care providers and consumers.
Wholly aware that trying to sift through the massive amount of data available on the web can be daunting to even the most seasoned researcher, CCHR painstakingly created the definitive guide to documented psychiatric drug side effects, taking the official FDA adverse reaction reports (MedWatch data), international drug regulatory agency warnings and studies, then summarized the often complex information into an easy, user-friendly format for consumers, researchers and policy makers.
For example, the FDA itself does not provide a way for the public to easily utilize the adverse reaction reports contained on their website, and while the data is available for downloading, it requires a programmer to decrypt the complex coding system, comprised of seven text files—over 94,000 pages per year (see side bar image for example of text files.) More than 2,000 hours were spent compiling the data into a user friendly format, which is now available for the general public. Now anyone can easily search side effects reported to the FDA (by doctors, pharmacists, health care providers and consumers) as well as international drug regulatory agency warnings and studies issued on antidepressants, antipsychotics and psycho-stimulants to name a few.
According to the FDA's MedWatch data, between 2004 and 2012, there were more than four hundred thousand adverse reactions from psychiatric drugs reported to the federal drug agency, including drug induced attempted and completed suicides and homicides. While the FDA itself estimates that less than 1% of all serious adverse events are reported directly to it, CCHR states the importance of the Medwatch data is that it represents some of the only post-market surveillance data on psychiatric drugs available. The fact is, the FDA approves psychiatric drugs for public consumption based on short term clinical drug trials (frequently only 6-8 weeks) and does not require drug makers to study the drug's long term effects once they are out in the consumer market and out of the controlled protocols of drug makers.
In addition to the interactive drug database, CCHR also created web pages summarizing all documented risks of the main classes of psychiatric drugs, such as the following:
Antidepressant drug risks – 99 drug regulatory agency warnings, 119 studies, and 136,239 adverse reactions reported to the FDA. These include:
self-harm
anxiety
withdrawal symptoms
death
mania or psychosis
diabetes
hallucinations or delusional thinking
depression
sexual dysfunction
homicidal ideation








Antipsychotic drug risks – 55 drug regulatory agency warnings, 77 studies, and 118,624 adverse reactions reported to the FDA. These include:
death/sudden death
heart problems
withdrawal symptoms
convulsions, seizures or tremors
diabetes
birth defects
agitation
mania and psychosis
sexual dysfunction







ADHD drug risks – 31 drug regulatory agency warnings, 20 studies, and 17,702 adverse reactions reported to the FDA.
These include:
heart problems
mania/psychosis
death
hallucinations
depression
violence, hostility or aggression
seizures
suicide risk/attempts
anxiety




Anti-anxiety drug risks – 17 drug regulatory agency warnings, 18 studies, and 35,230 adverse reactions reported to the FDA. These include:
death and sudden death
violence
homicidal ideation
suicide risk/attempts
birth defects
addiction

There are also summarized pages for specific top-selling, brand-name drugs such as Prozac, Paxil, Zoloft, Celexa, Ripserdal, Seroquel, Ativan, Ritalin, Adderall, Concerta, Provigil, Klonopin, Ambien, Xanax, and many more.
Too often, important scientific studies are lost on the public due to the confusing and complex nature of such reporting. In an effort to make this information available on a more basic level, the interactive psychiatric drug database allows users to customize their searches by class of drug, brand name of drug, age range and/or a particular side effect. The drug database was created by CCHR as a free public service.
View the new Psychiatric Drug Side Effects Database here.