By Kelly Patricia O'Meara
February 26, 2013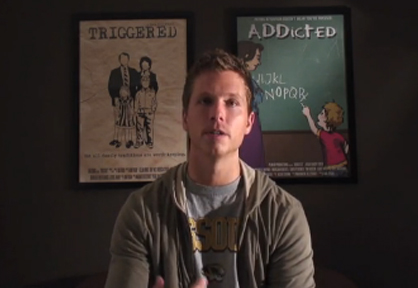 Dan Jenski, a thirty-something generation Yer or "millennial", has issues with the mental health diagnosis of his generation and the use and abuse of prescription mind-altering drugs.
As part of the generation that grew up with easy access to computers, instant internet connections and smart phones, Jenski is utilizing those tech savvy skills to raise awareness thru film about the mental health abuse he personally witnessed and the toll it took on his generation.
Jenski has produced a short film titled "ADDicted," which looks at the young life of Alex, a college-age student who was diagnosed with ADD and since the age of ten has been taking prescription mind-altering drugs.
While the film looks at many issues contributing to the pressures of his generation to succeed, the underlying theme is not whether the ADD/ADHD diagnosis is real or whether the drugs utilized to treat the alleged mental illness "work."  Rather, Jenski, intends to show, based on personal experiences, how the diagnosis and prescription drugs have been abused.
In an effort to raise the funds needed to shoot the longer feature film, Jenski, has set up a kickstarter webpage to introduce his short and make his case to raise the needed funds to finance the full-length film (http://www.kickstarter.com/projects/libproductions/addicted-feature-film?ref=live).
Jenski is aware that the mental health elements of the film and even the drugging may elicit a negative backlash but believes the story needs to be told. "Let the people who disagree be pissed off," says Jenski." "They cannot deny this (drugging) is happening," explains Jenski, "and everything in this film is supported by the truth."
Jenski's short film has received positive reviews from several film Festivals, including Sonoma International Film Festival and the Ft. Lauderdale International Film Festival.
To date, the project has raised just a little over $11,000 of the $50,000 needed to begin shooting the feature film.  Contributions range from one dollar to pledges of more than $5,000 and, under the Kickstarter program, Jenski must raise the needed funds by March 14.
Time is of the essence for the future of the film and Jenski appreciates even the smallest donation as it gets him one step closer to bringing this important story to the public.