Natural News—October 11, 2012
by J. D. Heyes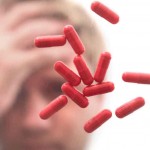 Big Pharma firm Johnson & Johnson, maker of the antipsychotic drug Risperdal, owes hundreds of millions of dollars to several states over improper marketing of the medication and for encouraging doctors to prescribe it for non-approved uses, but because the case was settled in court the company's CEO, Alex Gorsky, won't have to testify about allegations his company's drug caused some young boys to grow breasts, among others.
Manufactured by J&J subsidiary Janssen Pharmaceuticals, Inc., Risperdal hit the market in 1994 as a drug designed and approved to treat patients diagnosed with schizophrenia. Later, it was approved to treat bipolar disorder as well, along with irritability in children with autism. Still later, in 2007, it was further approved to treat schizophrenia and bipolar disorder in adolescents, reports said.
Throughout most of its existence; however, the drug had also been hyped for, and utilized to treat children years before it had been approved for that purpose. It was also prescribed for off-label uses like dementia, depression and anxiety.
Sensing an eventual tidal wave of claims, the company reached a settlement in court in mid-September, agreeing to pay 36 states and the District of Columbia $181 million for claims of consumer fraud. Janssen did not admit wrongdoing, mind you, but the company did agree to quit making false and misleading claims about its drug.
Some as large a 'D cups'
That may not be enough to keep the company out of further economic hot water, though, as scores of people who claim they were harmed by the drug are seeking legal help.
"Johnson & Johnson was out promoting Risperdal for children and adolescents even though the FDA hadn't approved it yet," Brian J. McCormick Jr., an attorney in Philadelphia whose firm is prosecuting personal injury lawsuits for consumers harmed by Risperdal, told Lawyers.com. "We have a number of cases lined up."
Among those who have already settled is Aaron Banks, 21, who alleged he suffered psychological damage after growing breasts while taking the drug between 1999 and 2004, starting when he was nine.
"It's been a disaster for him and many others who suffered from this," said Stephen Sheller, Banks' attorney. Sheller says he's filed some 120 similar suits and is set to take another to court soon.
"There are boys who grew breasts as large as 'D' cups. There's a major design defect here, which the judge was going to allow us to pursue, not just the fact that labeling understated risks," he told PharmaLive.com.
Sheller wanted to call Gorsky to the stand "because from October 1998 to October 2001, Gorsky was vice president of marketing at the J&J Janssen unit that sold the antipsychotic," PharmaLive.com reported. "And from October 2001 to early 2003 he was the Janssen president, during which time he was responsible for selling Risperdal."
The big dog escapes
The settlement; however, allowed Gorsky to avoid being deposed in court over his role – which is, to us, criminal in and of itself.
The U.S. Justice Department also wanted a piece of Gorsky. The department cited the same responsibilities as Sheller in a case earlier this year, "in connection with a widely publicized kickback case involving the Omnicare nursing home pharmacy," said the report.
As long as J&J continues to settle cases, however – the final settlement figure for all cases could reach as high as $2.2 billion – Gorsky may escape having to answer for his actions in court.
Sheller will continue to pursue that very thing. In his next case he says he hopes the judge will require Gorsky to testify, though J&J is fighting it.