Jon Rappoport
Infowars.com
July 31, 2012
People don't get it. The media don't get it and they don't want to get it. Billions of dollars are riding on the drugs Dr. Lynne Fenton may have prescribed to her patient, James Holmes, the accused Batman shooter.
And when billions of dollars in potentially lost revenue are hanging in the balance, the interested parties take action. They're serious about their money. They don't screw around.
You see, if James Holmes was, for example, taking Prozac, all of a sudden no one wants to take it. If doctors prescribe it to patients, the patients say, "Hey, wasn't this the drug that nutcase took before he killed all those people in the theater?"
And that's not all. Congress holds hearings, not because they want to, but because they want to look like they're doing the right thing. And at those hearings, all sorts of nasty stuff comes out about Prozac. It's big news. The studies that showed the drug was dangerous, that it could and would cause people to commit suicide and homicide. Boom. More bad press for the manufacturer. More investigations. More lost revenue. So right now, in Aurora, there are pharmaceutical people on the scene. Not just low-level goofballs, but competent investigators. They want to know what drugs James Holmes was prescribed. They need to know. And behind the scenes, people with clout are making phone calls. These pharma types are talking to government agents and it's crazy time and damage-control time, and nobody is laughing. This is a high-stakes game. WHAT DRUGS WAS HOLMES TAKING?
There is pressure on both attorneys in the case, too. And the cops. With an insanity plea lurking in the wings, Holmes' medical records could very well see the light of day. That would let everybody know what the drugs were. So somebody is calling the governor of Colorado, and other state officials, and they're trying to maneuver and manipulate the legal process, to make the medical records vanish.
Come on. This isn't just a murder case. Now it's about money. Big pharma lawyers are reading up on Colorado law to find loopholes, ways to get around revealing Holmes' medical history.
Holmes is now a pawn. He's the nowhere kid who is going to be shuttled around on the game board to save the drug money for the people who own it.
The money is dirty. It always was. It's filthy. It's been made on the backs of people who have died at the rate of 100,000 a year in the US alone. That's a million people per decade—pharmaceutically caused deaths. The heads of these drug companies and their allied banks are Mafiosa. They inflict more human damage in a day than all the goombahs who have ever shot up pizza joints on Mulberry Street or dealt narcotics to addicts across the world, since Sicily puts itself on the map as the center of the Cosa Nostra.
Holmes' psychiatrist, Lynne Fenton, was reprimanded by the Colorado Board of Medical Examiners, in 2005, for prescribing drugs to several patients, including herself, without entering the information in patient records. She could now find a target painted on her back, as the drug companies try to make her a patsy, an "irresponsible and incompetent doctor who didn't give Mr. Holmes what he truly needed." They would do this to take the drugs off the hook. "In the hands of a good psychiatrist, the proper medications would have worked well." Who knows? Maybe they'll claim she didn't even treat Holmes directly, but supervised interns or grad students, who actually worked with Holmes.
I wrote the following as part of a 1999 white paper for The Truth Seeker Foundation, in the wake of the Columbine massacre. So the information is from that period. The white paper was titled: WHY DID THEY DO IT? THE SCHOOL SHOOTINGS ACROSS AMERICA.
It's quite long; I've only printed an excerpt here. You can go to my blog and read the whole thing. It's very relevant to the issues at hand.
http://jonrappoport.wordpress.com
The bulk of American media is afraid to go after psychiatric drugs as a cause of violence. This fear stems, in part, from the sure knowledge that expert attack dogs are waiting in the wings, funded by big-time pharmaceutical companies.
There are doctors and researchers as well who have seen a dark truth about these drugs in the journals, but are afraid to stand up and speak out. After all, the medical culture punishes no one as severely as its own defectors.
And what of the federal government itself? The FDA licenses every drug released for public use and certifies that it is safe and effective. If a real tornado started at the public level, if the mothers of the young killers and young victims began to see a terrible knowledge about the psychiatric drugs swim into view, a knowledge they hadn't imagined, and if THEY joined forces, the earth would shake.
After commenting on some of the adverse effects of the antidepressant drug Prozac, psychiatrist Peter Breggin notes, "From the initial studies, it was also apparent that a small percentage of Prozac patients became psychotic."
Prozac, in fact, endured a rocky road in the press for a time. Stories on it rarely appear now. The major media have backed off. But on February 7th, 1991, Amy Marcus' Wall Street Journal article on the drug carried the headline, "Murder Trials Introduce Prozac Defense." She wrote, "A spate of murder trials in which defendants claim they became violent when they took the antidepressant Prozac are imposing new problems for the drug's maker, Eli Lilly and Co."
Also on February 7, 1991, the New York Times ran a Prozac piece headlined, "Suicidal Behavior Tied Again to Drug: Does Antidepressant Prompt Violence?"
In his landmark book, Toxic Psychiatry, Dr. Breggin mentions that the Donahue show (Feb. 28, 1991) "put together a group of individuals who had become compulsively self-destructive and murderous after taking Prozac and the clamorous telephone and audience response confirmed the problem."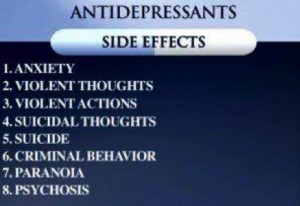 Breggin also cites a troubling study from the February 1990 American Journal of Psychiatry (Teicher et al, v.147:207-210) which reports on "six depressed patients, previously free of recent suicidal ideation, who developed intense, violent suicidal preoccupations after 2-7 weeks of fluoxetine [Prozac] treatment.' The suicidal preoccupations lasted from three days to three months after termination of the treatment. The report estimates that 3.5 percent of Prozac users were at risk. While denying the validity of the study, Dista Products, a division of Eli Lilly, put out a brochure for doctors dated August 31, 1990, stating that it was adding 'suicidal ideation' to the adverse events section of its Prozac product information."
An earlier study, from the September 1989 Journal of Clinical Psychiatry, by Joseph Lipiniski, Jr., indicates that, in five examined cases, people on Prozac developed what is called akathisia. Symptoms include intense anxiety, inability to sleep, the "jerking of extremities," and "bicycling in bed or just turning around and around." Breggin comments that akathisia "may also contribute to the drug's tendency to cause self-destructive or violent tendencies … Akathisia can become the equivalent of biochemical torture and could possibly tip someone over the edge into self-destructive or violent behavior … The June 1990 Health Newsletter, produced by the Public Citizen Research Group, reports, 'Akathisia, or symptoms of restlessness, constant pacing, and purposeless movements of the feet and legs, may occur in 10-25 percent of patients on Prozac.'"
The well-known publication, California Lawyer, in a December 1998 article called "Protecting Prozac," mentions other highly qualified critics of the drug: "David Healy, MD, an internationally renowned psychopharmacologist, has stated in sworn deposition that 'contrary to Lilly's view, there is a plausible cause-and-effect relationship between Prozac' and suicidal-homicidal events. An epidemiological study published in 1995 by the British Medical Journal also links Prozac to increased suicide risk."
When pressed, proponents of these SSRI drugs sometimes say, "Well, the benefits for the general population far outweigh the risk," or, "Maybe in one or two tragic cases the dosage prescribed was too high." But the problem will not go away on that basis. A shocking review-study published in The Journal of Nervous and Mental Diseases (1996, v.184, no.2), written by Rhoda L. Fisher and Seymour Fisher, called "Antidepressants for Children," concludes: "Despite unanimous literature of double-blind studies indicating that antidepressants are no more effective than placebos in treating depression in children and adolescents, such medications continue to be in wide use."
In wide use. This despite such contrary information and the negative, dangerous effects of these drugs.
There are other studies: "Emergence of self-destructive phenomena in children and adolescents during fluoxetine treatment," published in the Journal of the American Academy of Child and Adolescent Psychiatry (1991, vol.30), written by RA King, RA Riddle, et al. It reports self-destructive phenomena in 14% (6/42) of children and adolescents (10-17 years old) who had treatment with fluoxetine (Prozac) for obsessive-compulsive disorder.
July, 1991. Journal of Child and Adolescent Psychiatry. Hisako Koizumi, MD, describes a thirteen-year-old boy who was on Prozac: "full of energy," "hyperactive," "clown-like." All this devolved into sudden violent actions which were "totally unlike him." [Sound like James Holmes?]
September, 1991. The Journal of the American Academy of Child and Adolescent Psychiatry. Author Laurence Jerome reports the case of a ten-year old who moves with his family to a new location. Becoming depressed, the boy is put on Prozac by a doctor. The boy is then "hyperactive, agitated … irritable." He makes a "somewhat grandiose assessment of his own abilities." Then he calls a stranger on the phone and says he is going to kill him. The Prozac is stopped, and the symptoms disappear.
[What is true about Prozac is true about Paxil or Zoloft or any of the other SSRI antidepressants. And be warned: suddenly withdrawing from any psychiatric drug can be extremely dangerous to the patient. See www.breggin.com on this subject and how to handle it.]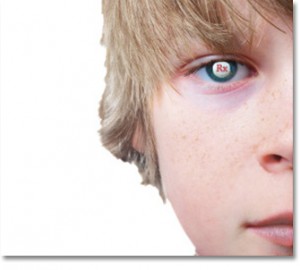 Ritalin, manufactured by Novartis, is the close cousin to speed which is given to millions of American schoolchildren for a condition called Attention Deficit Disorder (ADD), or ADHD (Attention Deficit Hyperactivity Disorder). ADD and ADHD, for which no organic causes have ever been found, are touted as disease-conditions that afflict the young, causing hyperactivity, unmanageability, and learning problems. Of course, when you name a disorder or a syndrome and yet can find no single provable organic cause for it, you have nothing more than a loose collection of behaviors with an arbitrary title.
Correction: you also have a pharmaceutical bonanza.
Read the rest of the article here:
To see a list of international drug advisory warnings and studies on psychiatric drugs and violence  click here
To see a partial list of school shooters documented to be under the influence of psychiatric drugs, click here
To visit the psychiatric drug side effects search engine – click here