Detroit Free Press – December 13, 2011
2 wins for mom: Charges tossed, she gets daughter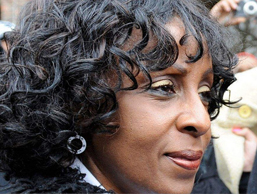 Two courts gave Maryanne Godboldo early Christmas presents Monday — her child and dismissal of multiple felonies from an eight-hour standoff with police last spring.
"Thank you for just doing your job and following the law," a weeping Godboldo said in the morning after Wayne County Circuit Judge Gregory Bill ruled that a lower court judge was correct in tossing out the criminal charges from the March incident.
Godboldo had held off child welfare workers and police who were try to remove her teenage daughter because Godboldo would not give the child Risperdal, a drug prescribed for an undisclosed psychiatric condition. Godboldo insisted that the drug, also used to stem aggressive behavior, was harming her daughter.
Bill's ruling upheld 36th District Judge Ronald Giles' ruling, which said the order to take the child was faulty and there was not enough evidence to support felony charges of assault and firearm violations.
"What a nice Christmas present," one of Godboldo's supporters said outside Bill's courtroom.
In the afternoon, Circuit Judge Lynne Pierce, sitting in family court, said the daughter could stay with her mother.
"We've had a very good day," Godboldo's lawyer Byron Pitts said after court.
Pitts said the decisions were victories for parental rights and a rejection of overreaching social workers and agencies.
Godboldo said the many hours she has spent in court have taken her away from caring for her daughter.
Another of Godboldo's lawyers, Allison Fulmar, said the decisions upheld what she called "a parent's right to due process."
There may be more rounds to fight, though. Within an hour of Bill's decision, the Wayne County Prosecutor's Office said it would appeal.
"That's their position, and it's absurd," Pitts said. "This woman has done nothing wrong."
Earlier, Pitts had called on Prosecutor Kym Worthy to drop the case.
"If she wants to pursue it, we'll keep fighting," Pitts said.
http://www.freep.com/article/20111213/NEWS01/112130326/2-wins-for-mom-Charges-tossed-she-gets-daughter