ABC News
By JOSEPH DIAZ and CLAIRE WEINRAUB
Dec. 2, 2011
Not long ago, 7-year-old Brooke was on a medical regimen that might seem extreme, even for an adult: The 43-pound girl was prescribed multiple mind-altering psychotropic drugs.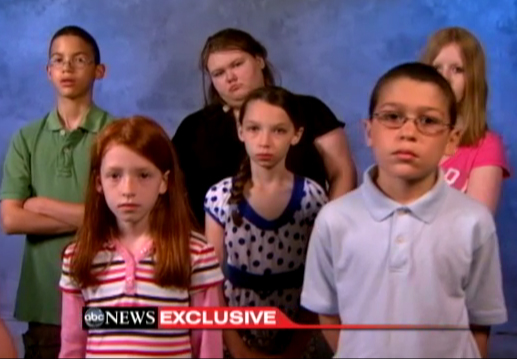 Dealt a tough hand early in life — her birth mother had a history of drug dealing and prostitution — Brooke was prone to extreme tantrums and wild behavior. Her foster mother, Lisa Ward, says a Florida foster care agency instructed her to take the girl to a mental health clinic. The clinic prescribed anti-psychotic medication, often used to treat schizophrenia and bi-polar disorder.
"Within a few weeks, probably two, they decided that it wasn't working. They needed to do something else," Ward recalled. "At this point, she's getting worse, she's not getting any better."
Brooke was given 10 different prescriptions in four months, with the clinic frequently increasing her doses.
As a foster mother, Ward felt she had no choice. She worried that the state would take Brooke away if she didn't give the girl the medication.
"We were told to put our faith in the system and that's what we did," Ward said. "They kept saying she needs more medication."
READ: A Resource Guide for Children in Foster Care
Foster children are medicated with psychotropic drugs up to 13 times more than other kids. Michael Piraino, the chief executive of the National CASA Association, a foster children's advocacy group, said that, as a population, foster children tend to be more troubled than their peers.
"If you've been hurt the way these kids are, you or I would feel the same way," he said.
But Piraino said helping the children is not about always trying "to change their brain chemistry."
"When a doctor tells me that the drug is working, I would ask, 'Who's it working for? Is it working for the kid? Is it working for the caretaker? Is it working for the system? It only matters to me whether it's working for the kid," he said. "Frankly, we want the doctors and nurses who are prescribing these medicines to look at their behavior and think – and ask this question: 'Are we doing something wrong here?' And to the extent that we are, individually or collectively, let's change that."
Delaware Sen. Tom Carper held a congressional hearing Thursday, demanding changes in the foster care system.
"In my judgment, no children in this country should be taking at the same time five different kinds of psychotropic drugs," he said. "None."
A Different Kind of Medicine
Despite the increases in dosage, Brooke's rages continued. Finally, Ward had enough — she decided to pay for the services of a private doctor, Dr. Luis Quinones. a psychiatrist.
Quinones was stunned by the pills Brooke was taking.
"The first thing we've got to think about: Is the medicine causing this?" he said. "There always has to be a high index of suspicion when we're using these agents."
LEARN MORE: Antipsychotics Most Commonly Prescribed to Foster Children
Brooke is now being weaned off all her medication, and while she still has emotional challenges, she is learning to take advantage of a different kind of medicine.
"What's another choice over a tantrum? What's a good choice?" Ward recently asked her.
"To hug you," Brooke replied.
Recently, there was a new reason for hugs — and it was a happy one: Ward adopted Brooke and her older sister, Kayla.
Besides being Brooke and Kayla's mom, Ward also recently took on another role: fighting for all of Florida's foster children.
Watch the full story tonight on "World News with Diane Sawyer" at 6:30 p.m. ET and "20/20" at 10 p.m. ET.
http://abcnews.go.com/Health/mind-altering-psych-drugs-year/story?id=15066848#.TtlR7HrXpWn