The Huffington Post – August 17, 2011
by Martha Rosenberg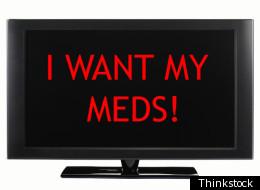 Before "Ask Your Doctor" ads on TV, all you knew about prescription drugs were creepy ads in a JAMA at the doctor's office with a lot of fine print. Even if you knew the name of a drug, you'd never ask your doctor for it because that would be self-diagnosing and cheeky for a patient.
Flash forward to the late 1990s when direct-to-consumer (DTC) drug advertising, drug websites and online drug sales came on board and self-diagnosing and demanding pills became medicine-as-usual for many doctors and patients.
The DTC/web perfect storm didn't just sell drugs like Claritin, Prozac and the purple pill. It sold the diseases to go with them like seasonal allergies, GERD and depression. It sold risk of diseases like heart events for which you'd take a statin like Lipitor, osteoporosis for which you'd take a bone drug like Boniva and asthma attacks for which you'd use a second asthma drug like Advair. Of course, by the very definition of prevention, you didn't know if the drugs were working but you weren't paying out of pocket anyway so what the hay.
Thanks to DTC advertising, people began taking seizure drugs like Topamax and Lyrica for everyday pain or headaches and antipsychotics — hello? — for everyday blues or mood problems. They started taking monoclonal antibodies made from genetically engineered hamster cells like Humira when they didn't have to. And even though FDA mandated risk disclosures — brain bleeds, sudden death, difficulty breathing, stomach bleeding, liver failure, kidney failure, muscle breakdown, fainting, hallucinations, the drugs perversely sold more either because ad frequency itself sells or because people like the identity in having a disease.
Soon anxiety graduated to depression which graduated to bipolar disorder. Children got schizophrenia and depression like adults, and adults got ADHD like kids. And it didn't stop there. If the depression you or your kid had didn't go away — maybe because it wasn't depression in the first place, but a thing called "life" — you needed to add a drug like Abilify or Seroquel on to the original drug(s) because your depression was "treatment resistant."
Of course if people were paying for the drugs out of their pocket and you told them to add a drug that costs almost $500 a month because the first one isn't working, they would say the only thing "treatment resistant" is your sales pitch — go find another sucker. But if third party payers get stuck with the bill, no one seems to mind pharma's double-(and triple)-its-money plan — or even notice it.
In fact psychiatric drug cocktails of eight, 10 and 12 drugs are now fairly common for "treatment resistant" depression and PTSD (often paid by government entitlement health plans) even though the drugs have never been tested when taken together. Unless you count the patients taking them now!
Pharma also adds an urgency pitch to the sell in case you think you can wait to take you or your child's treatment resistant drug cocktail until symptoms worsen. Depression is now a "progressive" disease, say pharma-paid doctors after being known for decades as a self-limiting disease. (The one good thing you could say about depression; it would go away.)
And don't think kids will outgrow mood problems either, says pharma. That erratic behavior is no doubt early mental illness that will become worse if you'd don't nip it in the bud. Even mothers of 1-year-olds with the sniffles are told serious asthma is just around the corner if they don't treat their toddler now.
Pharma is also having a field day with sleep because everyone is in the demographic. In fact comedian Chris Rock riffs about hearing a DTC ad that asks, "Do you fall asleep at night and wake up in the morning?" and recognizing himself. "Yeah, I got THAT," he says."
Not falling asleep soon enough of course is the disease of insomnia which can have "strains" like "middle-of-the-night" and "terminal" insomnia. But it also sets you up for — what's the pharma euphemism — wakefulness problems the next day. And once you're using a wakefulness aid like Adderall or Nuvigil, what do you bet you'll have sleep problems?
Because of pharma-paid doctors, PR firms and industry subsidized medical journals and websites like WebMD, pharma is able to create new diseases (osteopenia, the "risk" of osteoporosis), perimenopause and Low T), "humanize" others by giving them nicknames (ED, RA, RLS, Hep C) and elevate others to public health problems like HPV/venereal warts. (It doesn't hurt that Julie Gerberding, M.D., former CDC head resurfaced as head of Merck vaccines after she left the government.)
But a more insidious sell are pharma subsidized "patient groups" that lobby FDA and state agencies about expensive drugs, often psychiatric. While these "patients" — often flown by pharma to testify at FDA hearings — pretend they can't get needed drugs like terminal cancer patients, the issue is seldom availability but money: Either they want a new use covered by insurers or they don't want an older, cheaper drug substituted.
The same patients appear on website testimonials and phony grassroots PSAs (public service messages) about the epidemic of depression or childhood mental illness. How can you tell they're not real patients but pharma plants? The websites and PSAs look exactly like direct-to-consumer ads.
Martha Rosenberg's first book, tentatively titled "Born with a Fritos Deficiency: How Flaks, Quacks and Hacks Pimp the Public Health," will be published by Amherst, New York-based Prometheus Books next year.
http://www.huffingtonpost.com/martha-rosenberg/does-anyone-remember-life_b_921361.html