OpEdNews – July 21, 2011
by Martha Rosenberg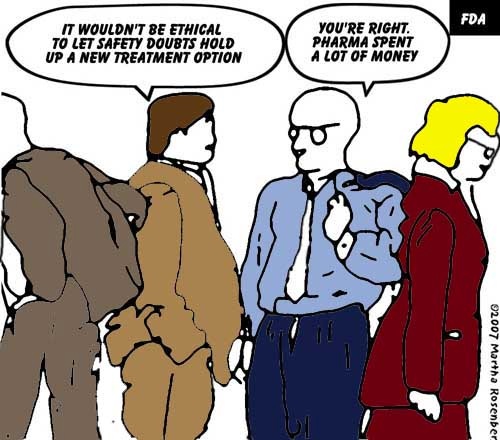 Most people blame direct-to-consumer advertising, especially on TV, for elevating everyday anxiety to depression, depression to bipolar disorder, childhood behavior problems to psychiatric illnesses, lack of sleep to excessive sleepiness, migraines to epilepsy drug deficiencies and old age to hormone deficiencya.
But ghostwriting also helps the national malaise of people suffering from and treating diseases that didn't even exist before and ballooning government and private health plans costs.
There are 200 US medical education and communication companies (MECCs) who ghostwrite medical journal articles for pharma for $20,000 to $40,000 per article. Companies like Complete Healthcare Communications (CHC) whose phalanx of 50 medical writers, editors and medical directors promise a "84.5 percent acceptance rate for first-time manuscript submissions."
Ghostwriting was behind the blockbuster Vioxx, withdrawn in 2004 for doubling the risk of heart attacks. "Merck designed the trial, paid for the trial, ran the trial," Dr. Jeffrey R. Lisse told the New York Times about a Vioxx study he authored in the Annals of Internal Medicine that left out three cardiac deaths. Oops. "Merck came to me after the study was completed and said, 'We want your help to work on the paper.' The initial paper was written at Merck, and then it was sent to me for editing."
Medical journals themselves can make $450,000 off one such ghostwritten article, because pharma orders reprints which reps disseminate as sales pieces ("look, Doc, it says RIGHT HERE").
In 2006, the editor-in-chief of the Journal of the American Medical Association (JAMA) Dr. Catherine DeAngelis had to apologize for a pharma-tainted article that defended the use of antidepressants during pregnancy and an article linking migraines to coronary risks in women. The doctor authors, it turned out, were getting money from antidepressant and heart medication manufacturers.
But ten months later, JAMA ran a study "designed jointly by the non-Merck investigators and Merck employees" and "supported by contracts with Merck and Co" that extolled the virtues of Fosamax, a Merck bone drug. Three Merck authors on the study disclosed they potentially owned Merck "stock and/or stock options" and the article's 11 other authors disclosed 40 research grants, consultancies and other financial relationships with drug companies including Eli Lilly, Pfizer, Roche, SmithGlaxoKline, Wyeth (now Pfizer) Novartis, Procter & Gamble and Merck. Since then, the FDA has issued several warnings about Fosamax and other bone drugs.
In 2007, the AMA itself was criticized for playing both sides of the enterprise street and making $50 million a year selling the names, office addresses and practice types of its members to data miners. The AMA's defense? Doctors could "opt out" of the privacy-invading program if they wanted to.
And then there are pharma's "unbranded" campaigns designed to look like real public health messages or communications from grassroots groups. Who can forget PR firm Cohn and Wolfe's faux grassroots group Freedom From Fear to sell Paxil, a pill now linked to birth defects? And the Wyeth (Pfizer) campaign, The Change You Deserve which said, whoever you are, you have depression and need Effexor?   Now, a new unbranded pharma campaign, Depression Is Real, running on radio stations, compares depression to cancer because it kills and diabetes because it doesn't go away. Kind of like pharma's huckstering.
http://www.opednews.com/articles/Are-You-Taking-Pills-You-D-by-Martha-Rosenberg-110721-870.html?show=votes