by CCHR UK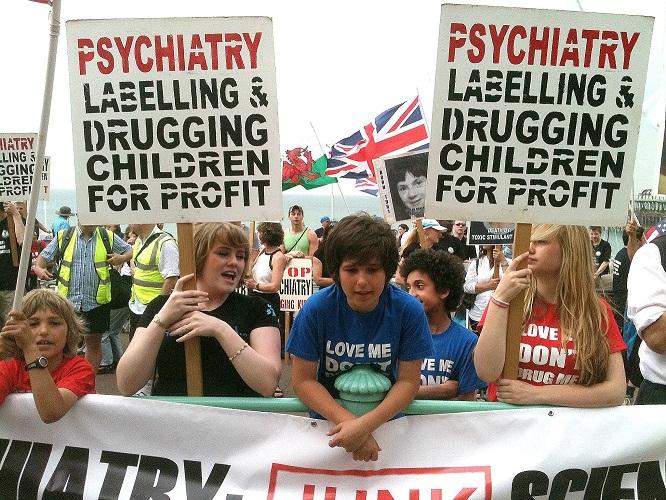 Hundreds of protesters opposing the junk science and dangerous drugs that make up psychiatry marched through Brighton last week.
The protest coincided with the opening of the Royal College of Psychiatrists' Annual Conference at the Metropole Hotel on Kings Road. The march started in Victoria Gardens and finished outside the hotel to highlight the use of dangerous psychiatric drugs that have resulted in multiple deaths of teenagers who had been labelled with so-called 'disorders'.
The protest was organized by psychiatric watchdog the Citizens Commission on Human Rights (CCHR).
Following the protest, a traveling exhibition was opened on the seafront opposite the hotel, exposing the hidden agendas and dangers of the psychiatric industry.
Called "How to Protect and Preserve Your Mental Health", the exhibition presented information not being made known by the psychiatric industry, information which CCHR says prevents patients making an informed choice about so-called treatment.
It also exposed the lack of transparency in the field of mental health, where only selective data is being made available to patients, and where the effects of psychiatric treatments including violence, aggression and suicide, are being washed over or even withheld.
CCHR says a series of needless young deaths could have been avoided if parents had been fully informed about psychiatric drugs and their effects, citing the recent suicide of 10-year-old Harry Hucknall, who hanged himself while on Ritalin and Prozac. The fact parents are not being told about the dangers of psychiatric drugs prescribed to children and adolescents has added to the mounting public distrust of the psychiatric profession, which has been worsened by problems within the profession itself.
Ahead of the Conference, Dinesh Bhugra, President of the RCP, came out saying mental health was in crisis due to staff shortages. His comments have come despite mental health receiving the largest portion of the NHS budget. According to Department of Health figures, mental health received £11.2 billion in 2010, an amount far in excess of what was invested in other areas such as cancer or heart problems.
Brian Daniels, spokesman for CCHR in the UK, says psychiatry is the only profession that has to continually advertise its failures as well as promoting how bad it is to get more government funding. He says any other profession would be in administration by now.
He also points to the fact that most doctors like to treat patients humanely, giving them a choice when it comes to treatment. He said, "Choices don't exist in psychiatry. It's no wonder doctors don't want to go towards a profession where forced treatment is the order of the day, and where you are a jailer if the person doesn't comply. Further, psychiatry has no scientific or medical basis and young doctors are recognizing this."