BNET
By Jim Edwards
May 27, 2011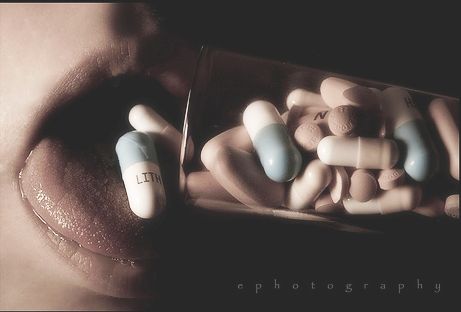 In 2008, the FDA declared that powerful antipsychotics such as AstraZeneca (AZN)'s Seroquel were being over-prescribed and started a monitoring initiative to curb their use. It hasn't worked, judging by an analysis of the FDA's adverse event database by the Institute for Safe Medication Practices.
Seroquel is only approved for schizophrenia, mania and bipolar disorders. It's a powerful drug that has serious side effects if taken for a long time: It's associated with weight gain and diabetes, among other problems.
Yet the ISMP found that 47 percent of all adverse events linked to Seroquel since 2004 occurred when the drug was being used for unapproved or "off-label" purposes, such as depression. 21 percent of adverse events are linked to off-label use of Seroquel in depression — a condition for which there are plenty of other available drugs — and 26 percent of events occur with other off-label uses: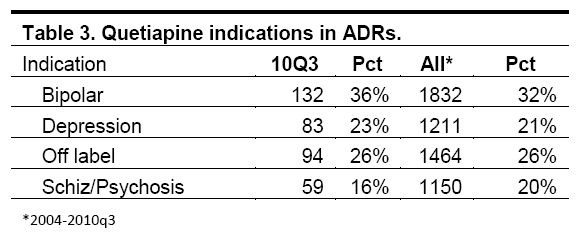 The ISMP said:
the adverse event data show quetiapine [Seroquel] has become a general purpose psychiatric drug with most reported injuries occurring outside its core indication for treatment of the most severe mental disorders, schizophrenia and psychosis.
In the off label category more than half the cases were for sleep disorders and insomnia. The next largest group was anxiety, and the remainder was divided among many other medical uses including autism, panic attack, headache, restlessness, nervousness, dementia and agitation.
The report is yet another in a series of publications from a variety of sources that suggest some psychiatric doctors are abusing their patients with Seroquel. In addition to the FDA's 2008 declaration, consider:
Injuries from Seroquel's side effects can be severe and permanent. In addition to diabetes they include suicidal/self-injurious behavior, and neurological movement disorders such as tardive dyskinesia, dystonia and parkinsonism.
AstraZeneca's role in promoting Seroquel for off-label uses is well documented. The company has paid $1.5 billion in legal costs and settlements for its mismarketing of the drug ($520 million to the Department of Justice; another $743 million in legal costs in unresolved cases through March 2011; and $198 million in civil settlements.)
So doctors have no excuse. The FDA — which has almost no jurisdiction over physicians — and the courts have performed their roles. It's time for the medical profession to take responsibility for the damage it is causing and cut down on its dispensing of Seroquel.
Read article here:  http://www.bnet.com/blog/drug-business/how-seroquel-a-risky-antipsychotic-became-a-8220general-purpose-8221-mental-health-drug/8545