Rabble.ca
By John Bonnar
May 9, 2011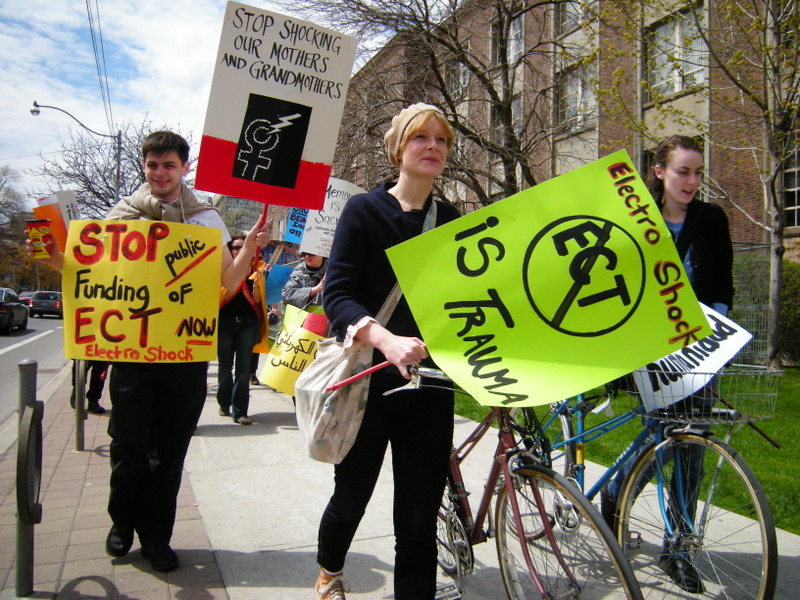 When Dorothy Washburn Dundas was 19 years old she became sad, felt lonely and attempted suicide by swallowing a half a bottle of aspirin. Her parents took her to the Massachusetts General Hospital where Dundas began what she called her "three-year hellish odyssey as a prisoner of the mental-health system."
She was transferred to Balpate Hospital, a drug treatment centre in Georgetown, MA, diagnosed with schizophrenia and, in spite of her opposition, given 50 shock treatments. Fourty insulin and ten superimposed electric shocks.
————————————————-
Click here to see more photos from the rally and march
————————————————-
In 1961, during the early morning hours, three other teenaged girls and Dundas began their insulin injections. On ten of those mornings a man wearing a dark suit and carrying a small suitcase set up his electroshock machine behind their heads. One by one, the girls were forced on to their backs.
"Bare, open and vulnerable," said Dundas in a statement read by a spokesperson from the Coalition Against Psychiatric Assault (CAPA) at Saturday's fifth annual rally at Queen's Park to raise awareness about the medical risks and sexist facts surrounding electroconvulsive therapy (ECT).
Dundas was second in line to receive ECT. She would often sneak a look to see what the doctors were doing to Susan, the first girl to receive the treatment. When Susan would shake violently, she could no longer watch and had to turn away.
Waiting for her turn, Dundas would shiver in fear beneath the bed sheets. "I can still feel the sticky, cold jelly they put on my temples," she said. Her arms and legs were held down and just before the doctor pushed the shock button he would ask, "Is everybody ready?"
"Each time I expected I would die," she said.
Later, she'd wake up with a violent headache and nausea. Her mind was blurred and she permanently lost eight months of memory immediately preceding the shock treatments. But she was lucky.
On one of those cold winter mornings, her 17-year-old friend Susan never woke up after an ECT treatment. "When she died, she became a part of me," said Dundas.
Dr. Bonnie Burstow, a researcher, therapist and Chair of the Coalition Against Psychiatric Assault, said, "We demonstrate against ECT because it is an atrocity…on or around Mother's Day because this is a deeply and profoundly sexist treatment. Two to three times as many women as men are shocked, even though women incur more damage from ECT than men do."
Electroconvulsive therapy (ECT) is a procedure in which electric currents are passed through the brain, deliberately triggering a brief seizure to cause changes in brain chemistry that can immediately reverse symptoms of certain mental illnesses.
According to the Mayo Clinic, side effects can include confusion, memory loss, nausea, vomiting, headache, jaw pain, muscle ache or muscle spasms.
The Canadian Institute for Health Information (CIHI) estimates that in 2007, the procedure was used more than 15,000 times in this country. It's endorsed by the Canadian Psychiatric Association that stated it is a safe and effective treatment for major depression and other severe mood disorders.
But Simon Adam, a nurse, educator and scientist, said he's seen the effects of ECT on his patients and believes the procedure is dangerous and doesn't help them at all.
A year ago, NDP MPP Cheri DiNovo introduced a private member's bill to defund ECT in Ontario. CAPA and DiNovo would have preferred an outright ban, but DiNovo was forced to compromise after she received complaint letters from the psychiatric community and heard from patients who claimed they'd been helped by ECT.
"We know the same thing happened over lobotomies," she said.
"We certainly know as women that the roots of gynecology were roots of abuse against women's bodies. We know that the time will come for this as well."
Every year, both new and familiar faces show up at the annual Mother's Day weekend rally and march to abolish ECT.
"We will come again and again and again until we get rid of this," said Burstow.
"We're going to win this fight because that's an atrocity, because we are the people and because unlike psychiatry which manufactures lies by the second, we stand in truth."