Natural News April 26, 2011
by Ethan Hunt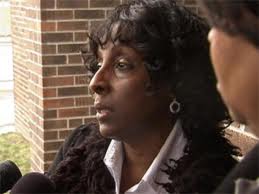 New developments in the case of Maryanne Godboldo — the Detroit, Mich., woman whose house was recently raided by a SWAT team with a tank, and whose daughter was subsequently kidnapped by these armed terrorists — are set to hopefully clear the mother of any wrongdoing in the matter (http://www.naturalnews.com/032090_M…).
Recently-released court documents prove that the consent form Maryanne signed agreeing to give her daughter the highly-dangerous anti-psychotic drug Risperdal was optional, and that she was always free to cease using them at any time.
In other words, the raid conducted by state-sanctioned thugs on behalf of Child Protective Services (CPS) was nothing more than an illegal kidnapping by armed terrorists who violated Maryanne and her family's legal, civil, and God-given rights. At this point, Maryanne truly has a fully-validated case against CPS and its criminal cabal, should she decide to pursue aggressive legal action against them. After all, they illegally broke into Maryanne's home and proceeded to kidnap her child without just cause.
The consent document Maryanne signed clearly states that she would "not be forced" to administer the medication, and that her daughter was free to "stop taking it at any time." Maryanne had also consulted with another doctor, who recommended that she stop using the deadly drug and instead pursue alternative options — which clearly proves that the child was not being neglected as some have accused.
"I think that document proves our case," said Wanda Evans, Maryanne's lawyer in the case. "She understood she had a right to stop giving the medication. If you sign an informed consent that says you can stop, and you stop, you did the right thing, and CPS is just being nasty."
According to reports, Maryanne's daughter, Ariana, is still being held in captivity at a CPS facility in Northville, Mich. Supporters from around the country continue to raise money to help Maryanne's legal battle to free her daughter, and you can help support these efforts by visiting:
http://justice4maryanne.com/
Sources for this story include: