Pharmalot
by Ed Silverman – April 12, 2011

File this under The Case of The Missing Book. When last seen, Scientific Therapeutics Information was at the center of an ongoing controversy over an allegedly ghostwritten book – yes, an entire book – that was published in 1999 by the American Psychiatric Association. Funding came from a grant provided by SmithKline Beecham, which is now part of GlaxoSmithKline (back story).
The listed co-authors were Charles Nemeroff, who chairs the psychiatry department at the University of Miami medical school, and Alan Schatzberg, who until recently chaired the psychiatry department at the Stanford University School of Medicine. Both men were at the center of a long-running probe by the US Senate Finance Committee into undisclosed conflicts of interest among academic researchers. They were also regular speakers for Glaxo, which makes the Paxil antidepressant (see here and here).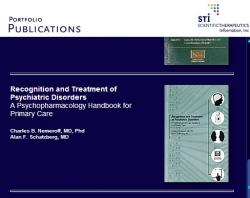 STI, which was also targeted by the same committee over alleged ghostwriting activities surrounding Merck's Vioxx painkiller (see here), provided drafts directly to Glaxo for comments and sign-off, as well as this 1997 status report and page proofs to the credited authors. Nemeroff and Schatzberg, however, have insisted they did all the work on the book. For its part, the APA has denied any ghostwriting, although the organization has stonewalled requests to disclose paperwork that might support its position (see this).
However, MI Watch, a non-profit devoted to tracking mental illness issues, discovered STI listed the book, entitled "Recognition and Treatment of Psychiatric Disorders: A Psychopharmacology Handbook for Primary Care," in the portfolio section on its web site (see this). At least, until recently. A visit to the site now yields a message saying the page cannot be found. None of its published work, in fact, is currently visible. This is an odd turn of events for a firm that boasts "STI's dedicated and experienced editorial staff can create a strategic publication plan to meet your goals and messaging."
So we called John Romankiewicz, a PharmD who started the firm 26 years ago, to ask about the missing info. His explanation? "Thanks for the inquiry," he responded abruptly, "but we don't display that kind of stuff on our web site." We replied by noting that the info had been there previously, but then we heard a loud…click. Perhaps, he realized that listing the book as a portfolio product does not easily square with the APA position that ghostwriting did not take place. And taking down the product portfolio might also make it more difficult to scrutinize other STI work. Given how fast he hung up, though, one might have thought we uttered the magic word: "Boo!"
http://www.pharmalot.com/2011/04/a-ghostwritten-book-mysteriously-disappears/