BNET
By Jim Edwards
March 25, 2011
One of the reasons Johnson & Johnson (JNJ) lost a recent trial verdict over its misleading marketing of Risperdal was because jurors saw the company's internal emails in which senior staff described their own actions as "ugly" and not "competent."
Although the emails don't reveal anything we don't already know about Risperdal — J&J marketed the atypical antipsychotic for years by playing down the risk of weight gain and diabetes associated with the drug — the communications do give us a rare glimpse into the backbiting that happens inside drug companies when they fall afoul of the FDA. Pharmaceutical companies almost never discuss this kind of thing in public. (The documents can be downloaded at CourtroomView Network.)
In 2003, the FDA became increasingly concerned that use of drugs such as Risperdal and Eli Lilly (LLY)'s Zyprexa led to weight gain, diabetes and, in some patients, an early death. So it wrote to all antipsychotic drug companies to require them to send a "dear health care provider" letter to all U.S. doctors advising them of this risk:

But J&J began trying to figure out whether the "dear doctor letter" could actually be used to promote Risperdal, which executives believed was not as risky as similar drugs. SVP/R&D Scott Reines had seen a previous "dear doctor letter" from Eli Lilly that had used the same sleight of hand, and he asked a colleague, "how much commercial liability would we incur if we sent a similar letter about Risperdal"?: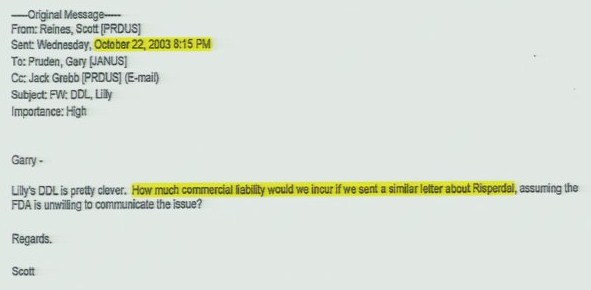 When J&J's letter went out, instead of heightening doctors' awareness of the risk of diabetes it said the opposite: "Risperdal is not associated with an increased risk of diabetes":

The FDA — unsurprisingly — hit the roof, and sent J&J a warning letter, blasting the company for being "false and misleading."
Inside J&J, Reines was furious: "The whole management team almost got canned," he wrote to chief medical officer Joanne Waldstreicher. "The warning letter is ugly … it's really a black mark for J&J …  [and] no competent person would have let [the 'dear doctor letter'] go out":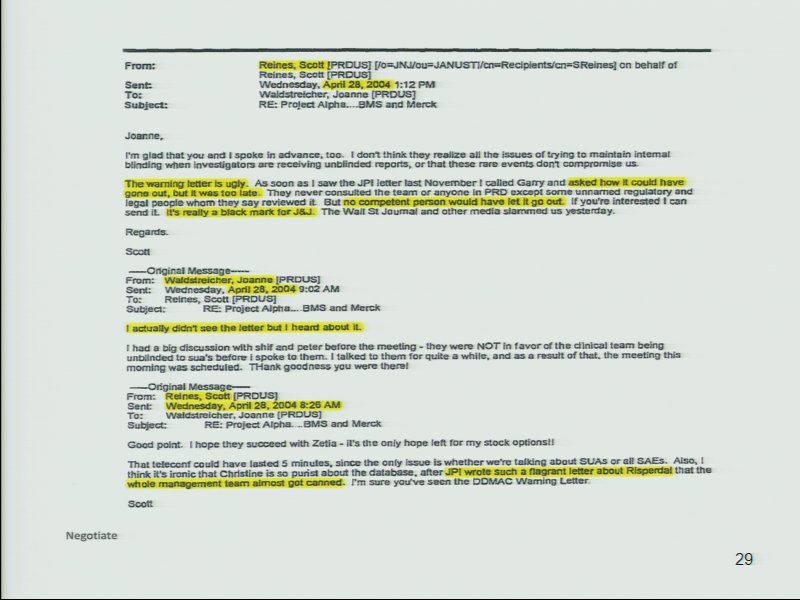 J&J faces up to $36 million in fines as a result.
Read article here:  http://www.bnet.com/blog/drug-business/internal-j-j-emails-detail-8220ugly-8221-chapter-in-mismarketing-of-antipsychotics/7743