Salisbury Post – Jan 9, 2011
by Dr. Jim Spiceland

"Empty is the argument of the philosopher which does not relieve any human suffering." — Epicuris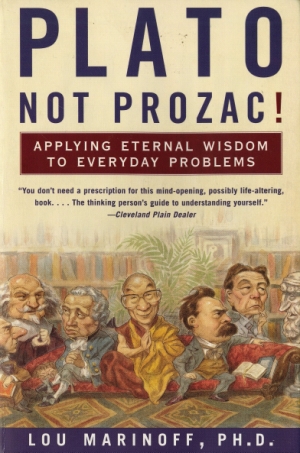 An important objective of "Plato, Not Prozac!: Applying Eternal Wisdom to Everyday Problems" is to introduce the reader to the methods and value of "philosophical practice."
The author, Dr. Lou Marinoff of City University of New York, is aware that this may seem like a new concept to some American readers. He reminds them of the words of one of the west's earliest philosophers, Socrates, who counseled his students to "know themselves."
Socrates also claimed that "the unexamined life is not worth living," and many of his dialogues, brought to us by his student Plato, can plausibly be viewed as counseling sessions.
Socrates clearly wanted his students to face their problems, and his dialogues demonstrate a constructive method for dealing with them. Indeed, Marinoff claims that philosophical dialogue, the exchange of ideas itself, can be therapeutic.
Socrates also referred to the philosopher as a "midwife," one who is skilled in assisting the student in the sometimes painful process of uncovering his or her own inner life.
Philosophical practice is not something new. It has been around, in one form or another, for a very long time.
Marinoff calls philosophical practice "therapy for the sane," which makes it useful to just about all of us. He laments the "medicalization" of many of the ordinary stresses of modern life.
Emotional distress is not necessarily a disease. Modern psychiatry, however, appears to thrive on this model. Marinoff points out the growth of its major reference book, "The Diagnostic and Statistical Manual" (DSM). Marinoff says that just about any conceivable behavior can end up listed in the DSM and diagnosed as a symptom of mental illness.
This is in spite of the fact that a majority of the mental illnesses listed in the DSM have never been shown to be caused by any brain disease.
In 1952, the DSM listed 112 disorders. The current edition, first published in 1994, presents nearly 400 disorders. The target date for the next edition is 2012. One wonders how long its list of disorders will be. Marinoff claims "…the pharmaceutical industry and the psychiatrists who prescribe their drugs are committed to identifying as many 'mental illnesses' as theypossibly can."
This, of course, results in the transfer of a lot of wealth and power in their direction. In the 1980s, psychiatrists suggested that about 10 percent of the U.S. population was mentally ill. By the 1990s, the number was up to 50 percent.
There are people who need to be medicated, and it is also true that a few need to be institutionalized to protect themselves and others. It should be equally clear, however, that something has gone wrong here.
Half of us are mentally ill? On the contrary, it is normal to have problems. Most educated people have the intellectual means to recognize and deal with the problems that come with life in our hurried technological age.
We may, however, profit from the collective insights of philosophy. "Plato, Not Prozac" is replete with interesting discussions of how to apply philosophy to personal moral dilemmas, conflicts between reason and emotion, problems with relationships, midlife changes and mortality.
Marinoff writes of a "great philosophical plague of … widespread feelings of personal pointlessness. So many people are without a firm sense of purpose or meaning in their lives that the lack has come to seem normal."
There is good reason to believe that most of us can work through these issues on our own, and a careful reading of this book can be a good beginning. Its purpose is to be a practical guide to help deal with life's most common struggles. It deals with important questions that all people grapple with, and considers answers given by some of history's great thinkers. Most important of all, it presents strategies that help the reader find his or her own answer.
The book is neatly divided into four sections, each of which builds on the other, leaving the reader with a clear understanding of the methods and values of philosophical practice.
The first part of the book discusses "New Uses for Ancient Wisdom" and does an excellent job of demonstrating how the perennial questions of the discipline are relevant to our fast-paced lifestyle.
When confronting a problem philosophically, one practical method is what he labels the PEACE process. This involves identifying the problem, examining the emotions provoked by the problem and an analysis in which you list and evaluate options for solving it.
The fourth stage requires a person to take a step back, gain perspective and contemplate the entire context of the problem.
"To this point, you've compartmentalized each of the stages in order to get a handle on them. But now you exercise your whole brain to integrate them. Rather than dwelling on the individual tree, you examine the shape of the forest."
This will enable a person to consider which philosophical systems, insights and methods might be helpful in managing the issue. These four steps, when carefully applied, should bring an understanding of the problem which makes the appropriate action clearer.
Part II discusses "Managing Everyday Problems," such as seeking a relationship, maintaining a relationship, family life and strife, workplace issues, midlife problems and many other issues. The discussion is enriched by case studies from the author's practice.
Part III presents the application of philosophy to contexts beyond client counseling. European philosophical cafes are presented, along with the need for specialized ethical consultants in areas like health care, business and law.
A clear description of a "Socratic dialogue," such as those conducted at German spas and resorts, is in this section. The author even mentions a colleague who is marketing Socratic dialogues to cruise lines: "Sun, Sea, and Socrates." Certainly a new and interesting idea.
The last section is a discussion of more than 60 philosophers whose work is relevant to philosophical counseling. Several of them are mentioned in the book, but these brief presentations elucidate their relevance to many philosophical problems.
"Plato Not Prozac" is a good read. And the book is not as polemical as the title implies. Fairly early on, Marinoff suggests that in our fast-paced lifestyle, some people will benefit from Plato and Prozac. The book represents a refreshing and much-needed perspective.
http://www.salisburypost.com/Entertainment/010911-book-plato-not-prozac-qcd
Lou Marinoff  is Professor and Chair of Philosophy at City College New York, and the Founding President of the American Philosophical Practitioners Association (APPA)