Note from CCHR:  Let's  see if we've got this straight…..last year, Pfizer paid $1.2 billion for illegal off-label promotion -the largest criminal fine in U.S.history. The company also paid $2.3 billion to settle claims that it had marketed numerous drugs for unapproved purposes.  Other corporate violators included GlaxoSmithKline, Eli Lilly, Schering-Plough, Bristol-Myers Squibb, AstraZeneca, TAP Pharmaceutical, Merck, Serono, Purdue, Allergan, Novartis, Cephalon, Johnson & Johnson, Forest Laboratories, Sanofi-aventis, Bayer, Mylan, Teva and King Pharmaceuticals.  Criminal or civil illegalities included  (1) overcharging government health programs, (2) unlawful promotion, (3) monopoly practices, (4) kickbacks, (5) concealing study findings, (6) poor manufacturing practices, (7) environmental violations, (8) financial violations and (9) illegal distribution. And after all that, the FDA is going to allow Big Pharma to launch into social media?   Seriously?  The article below claims the FDA monitors drug ads –for accuracy.  No they don't.  The FDA doesn't bother verifying the ads big Pharma inundates us with on TV & in print, to ensure these ads are not fraudulent or misleading even though its the FDA's job to do this, and now they're going to let Big Pharma loose on social media?   Sounds to us  like once again,  the FDA has Big Pharma's back instead of the general public's.
TIME Magazine  – December 28, 2010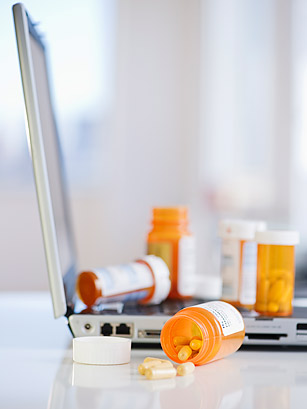 Tweets are supposed to be quick and to the point, but the Food and Drug Administration (FDA) is neither in its ever lengthening quest to tell the world's drugmakers how they can promote their potions via Twitter, Facebook and other social media. More than a year ago, after criticizing 14 pharmaceutical companies for posting misleading messages on such sites, the FDA held hearings on the topic and declared it would issue rules by the end of 2010. Now it's delaying them until sometime early next year, perhaps later.
For more than a decade, the FDA has regulated how drug companies sell their products in newspapers, magazines, television and radio. But as the rest of the business world jumps into booming social-media marketing, there are no rules yet for medicine merchants. The pharmaceutical industry had hoped the FDA would stick to its pledge and issue guidelines this year. Earlier this month, in fact, agency officials said that was still the plan. But last week, the FDA office responsible for drafting the new regs said, without elaboration, that it is going to wait at least until the first quarter of 2011 before issuing them. (See TIME's best pictures of 2010.)
The companies wish the agency would act. "Without guidance, our activities are limited in a manner that we believe is not in the best interests of informed health care decision making," the drugmaker AstraZeneca has told the FDA. "In our absence, consumers will turn to information sources that are not regulated and not always well informed." Not everyone agrees the companies have such altruistic aims. The Center for Digital Democracy (CDD), a consumer group based in Washington, D.C., that is focused on marketing and public-health issues, has told the FDA to take as much time as it needs. The agency, says Jeff Chester, CDD's executive director, "needs to take a deep breath, and shouldn't open the floodgates and allow pharmaceutical companies to purposely mislead consumers." (See how drug companies are taking their pitch to social media.)
Despite such qualms, there's reason to be concerned by the foot-dragging. About 60% of U.S. adults get health information online, often for a partner or child. We're what experts call "e-patients," who regularly march into doctors' offices demanding prescriptions for what ails us. Many of us pore over the Internet, seeking ways to get better, and often surrender personal information to get it. The drug industry surely recognizes the value of such online contact, and is steadily increasing the share of its $4 billion annual marketing budget dedicated to online offerings.
Yet tough questions need to be answered before Big Pharma starts tweeting about our tummy aches. How can drug companies safely sell their products — which often require pages of fine print or speed-talking announcers — in a 140-character tweet? If a drug's risks and benefits are wrongly cited in a Wikipedia entry, is the company responsible for correcting it? Does that then become advertising regulated by the FDA? Does the drug industry's proposal to include a symbol, inside a tweet, that links consumers to more detailed information make sense? (Comment on this story.)
It's enough to give you a headache. In which case, you may want to take two tweetless aspirin, along with a dollop of patience, while awaiting the FDA's rules.
Read more: http://www.time.com/time/business/article/0,8599,2039794,00.html#ixzz19WlEIgcZ