WNCY NEWS November 18, 2010
by Alisa Chang
Most people getting a prescription for a drug don't ask if their doctor is getting paid to promote that drug.  But thousands of physicians all over the country get paid by pharmaceutical companies to speak about brand-name medications. Some have made more than $300,000 in the last 18 months. And at least 1,500 of these speakers are licensed in New York. All these details have just come to light after the investigative news organization ProPublica compiled a database based on disclosures made by seven pharmaceutical companies after federal lawsuits.
(See a list of New York's top earners and check and see if your health provider has received funds here.)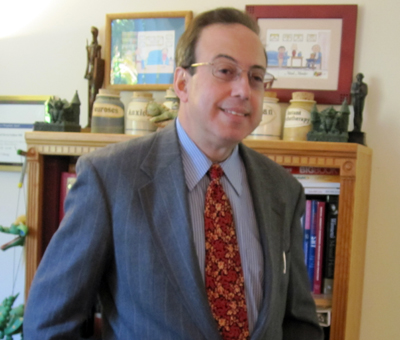 For more than 20 years, psychiatrist Richard Schloss has been treating Long Island patients with schizophrenia, bipolar disorder and social phobias.  But he has another job. Pfizer has paid him thousands of dollars to tell other psychiatrists about a drug the company sells, an anti-psychotic medication called Geodon.
In all his years of speaking for Pfizer, the company's never asked Schloss (right) about an embarrassing stain on his state record. In 2001, the New York State Health Department suspended Schloss and then put him on probation for five years for helping supply Vicodin for a year and a half to six patients who were drug addicts.  Schloss says he didn't know at the time those patients were lying to him about their pain symptoms.
"I was just trying to be compassionate and was misguided and maybe a little naïve, but that was 10 years ago that the disciplinary action occurred based on incidents that occurred 13 years ago. So I feel like I'm a different doctor than I was then," said Schloss, "and it doesn't really detract from what I know and what knowledge I can impart about the medications that I speak for."
Drug companies say the goal of their speaker programs is to educate — and that they merely pick the best experts to teach fellow doctors about the latest drugs. But many people in the medical community disagree with those claims and want to see the practice end. They say the way drug companies recruit and script their speakers has less to do with education and more to do with marketing.
Speakers With Tainted State Records
Among the 17,000 speakers in the ProPublica database are hundreds of doctors like Schloss — doctors with tarnished state records who have been paid by drug companies to teach other physicians about the latest medications. Schloss says he doesn't know if Pfizer even knows about his record.
"They didn't bring it up, and I didn't volunteer it but if they asked, I would have been forthcoming, obviously," said Schloss.
ProPublica's database for New York doctors shows GlaxoSmithKline recruited a physician after he was suspended for unzipping his pants and fondling himself while examining a female patient. An Eli Lilly speaker wrote fake prescriptions for Ritalin to feed his own addiction. And Johnson & Johnson hired a doctor who lost his New York license after giving patients drugs that weren't approved for human use. Medical ethicists are now asking if drug companies are checking the state records of their speakers.
"It shows that drug companies aren't necessarily that selective in who they're using to promote their products. They will take people who will do what they need them to do," says Susan Chimonas, a researcher at the Center on Medicine as a Profession at Columbia University. "Their number one concern is making money for their shareholders. That is their legal obligation. And if they can't find enough physicians with unblemished records to go out and push their products for them, they will take who they can get."
When WNYC asked Pfizer and other companies how these doctors ended up on their speaker lists, none would grant interviews. Some of them have told ProPublica they do conduct background checks on their speakers, but are now re-evaluating the process.
Targeting High Prescribers
To be clear, the doctors with blemished state records only comprise about one percent of the New York speakers in the database. That is about the same percentage of doctors who are disciplined every year in New York. But evidence from these speaker programs raises troubling questions that go far beyond doctors with blemished records. The companies insist these programs are purely educational, and they get the best teachers they can find. But documents and interviews with several physicians chip away at that claim.
First, the industry says it picks the doctors who are the most knowledgeable about the drugs. But Schloss said Pfizer first picked him because he was a high prescriber of Geodon.
"What they do is they get the pharmacy records, and they know who's prescribing what," said Schloss, "and they can come in and say, 'I see you're prescribing, you know, a lot of, in this case, Geodon. What do you like about it?' And you if say nice things, they say, 'Will you be interested in speaking for us?'"
Schloss said he agreed to be a speaker because he genuinely believes in Geodon, and he enjoys teaching. But even he admitted the speaking has actually changed the way he prescribes.
"You know, I may use Geodon maybe 10 percent more than I did before I was a speaker," said Schloss. "I use it 10 percent more because I've spoken about it so many times, and thereby, learned a lot more about what the drug can and can't do."
Read the rest of the article here: http://www.wnyc.org/articles/wnyc-news/2010/nov/18/physicians-pharmas-payroll-educators-or-marketers/