NYCBlink.com November 15, 2010
by Kevin Flat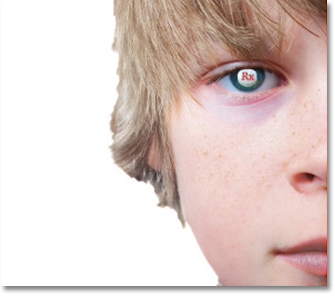 Ritalin is prescribed to 6 million children with ADHD every year and like all drugs comes with a long list of side effects including nervousness, nausea, dizziness, drowsiness, insomnia, joint pains, headaches, increased blood pressure, fever, rapid heartbeat, abdominal pain, and psychosis.
Tom Sawyer may have been a layabout, a truant and self-indulgent. He may have picked fights with strangers for no apparent reason; but he was also resourceful, spirited and refreshingly clever. Huckleberry Finn was an illiterate outcast, but as a long term rafting companion he had no peer.
Today children who have difficulty playing quietly or following instructions find themselves under the scrutiny of parents, teachers, guidance counsellors and child therapists, all of them looking for the slightest sign of a medical syndrome. (Fully referenced articles regarding ADHD and Magnesium, ADHD and Fish oil and ADHD and Tonsillectomy can be found on my website which is linked to at the bottom of this article).
The Food & Drug Administration (FDA) only mandates a warning be printed on the package insert for Ritalin which is now associated with 19 confirmed childhood deaths due to cardiovascular problems. Stimulants might be far more dangerous to the heart than Vioxx or Bextra, drugs that were withdrawn over the past two years because of their ill effects on the heart.
On March 21, 2000, a 14-year-old boy dropped dead of a heart attack while skateboarding. The ninth-grader had been on Ritalin since the first grade. The father of the youngsterhas testified that he and his wife were forced by Michigan Social Services to put their child on Ritalin or else be charged for neglecting their son's educational and emotional needs. (WorldNetDaily.com January 3, 2003).
These agents substantially increase the heart rate and blood pressure. In a placebo-controlled trial, mixed amphetamine salts (Adderall) administered to adults increased systolic blood pressure by about 5 mm Hg; similar effects were found with methylphenidate formulations. Blood-pressure changes of this magnitude, particularly during long-term therapy, are known to increase morbidity and mortality. (Steven E. Nissen. ADHD Drugs and Cardiovascular Risk. New England Journal of Medicine 2006; 354: 1445-1448).
The Food and Drug Administration (FDA) is advising health care professionals about a new warning for Strattera, a drug approved for attention deficit hyperactivity disorder (ADHD) in adults and children. The labelling warns that severe liver injury may progress to liver failure resulting in death or the need for a liver transplant in a small percentage of patients. The labelling also notes that the number of actual cases of severe liver injury is unknown because of under-reporting of post-marketing adverse events. (Medical News Today 18/12/2004).
Hallucinations
Stimulants like Ritalin lead a small number of children treated for ADHD to suffer hallucinations that usually feature insects, snakes or worms, according to federal drug officials, and a panel of experts said on Wednesday that physicians and parents needed to be warned of the risk. (The New York Times March 23, 2006).
Current labelling for the ADHD drugs – Adderall, Focalin, Concerta, Metadate, Methylin, Ritalin and Dexedrine – does not mention the possibility of hallucinations in patients who had no history of them and had taken the usual dose. "We read case upon case of these children who do experience these hallucinations," Rosemary Johann-Liang of the FDA's Office of Drug Safety told the committee. "That is something that really struck all the reviewers." (USA Today March 23, 2006).
Dr. Kate Gelperin, an F.D.A. drug-safety specialist, told the committee that the agency had discovered a surprising number of cases in which young children given stimulants suffered hallucinations. Most said that they saw or felt insects, snakes or worms, Dr. Gelperin said. (The New York Times March 23, 2006).
Fully referenced articles regarding ADHD and Magnesium, ADHD and Fish oil and ADHD and Tonsillectomy can be found on my website which is linked to at the bottom of this article
Depression and Brain Damage
A new study conducted in rats by the National Institutes of Health (NIH) and McLean Hospital/Harvard Medical School suggests that the misdiagnosis of attention-deficit hyperactivity disorder (ADHD) combined with prescription drug use in children may lead to a higher risk of developing depressive symptoms in adulthood.
These findings are critical because they suggest that Ritalin can have long-term consequences on normal-functioning brains. The study is particularly relevant when considering the difficulty in correctly diagnosing children with ADHD. There is increasing evidence to suggest that correct diagnosis of ADHD is of the highest importance – children who are misidentified as having ADHD and subsequently placed on prescription drug therapy could face possible impaired brain performance as adults. (American College Of Neuropsychopharmacology 29 December 2004).
Dr Joan Baizer and colleagues from the University at Buffalo, State University of New York have found that relatively high doses of the drug methylphenidate, the generic form of Ritalin, changed the expression of a gene involved in brain function in laboratory rats. The same gene is known to be affected in humans by other psychoactive drugs, such as amphetamines and cocaine. According to Dr Baizer, the dose used was comparable to the high end of the dose used to treat children with ADD and ADHD, after taking into account differences in metabolism between rats and humans. (Anna Salleh, ABC Science Online 12/11/2001).
Dr Alasdair Vance of Melbourne's Alfred Hospital said: "Yes, there are studies that show Ritalin is effective, but they only look at single doses, or what happens in the first three to six weeks. The vast majority of children are on it for months to years. The handful of longer-term studies of Ritalin use had only looked at symptoms, not brain physiology?, he cautioned. (Anna Salleh, ABC Science Online 12/11/2001).
The ADHD drug manufacturers have been instructed to produce Patient Medication Guides that tell patients about possible risks of adverse cardiovascular and psychiatric symptoms and the precautions they should take. The new instruction affects 15 products, including various forms of Adderall, Concerta, Daytrana, Dexedrine, Focalin, Metadate, Methylin, Ritalin, and Strattera. The FDA has been criticized for failing to notify the public sooner. (Medical News Today 22 Feb 2007).
Read the rest of this article here:  http://www.nycblink.com/article/adhd-ritalin-brain-damage-heart-attacks-hallucinations-liver-damage
For all international studies/warnings on Ritalin and other psychiatric drugs, visit CCHR's psychiatric drug side effects database http://www/cchrint.org/psychdrugdangers/