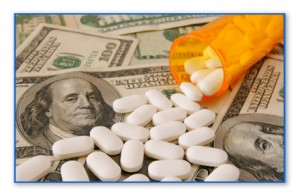 By CCHR International
May 21, 2010
Due to Senate investigations into the American Psychiatric Association, psychiatrists have promised to cut back on their conflicts of interest (pharma funds), but of the current DSM task force members, those who will be deciding on the holy grail of psychiatric disorders (DSM) and what constitutes a "mental illness" are still heavily funded by Pharma. In fact, there is no improvement over cutting down the number of panel members who are getting paid by industry over the last DSM revision in 1994. It was 56% then and its 56% now. So much for psychiatry's promises…
Former APA president Nada Stotland stated: "We are in the midst of a revolution caused by public and legislative concern about the influence of the for-profit sector…." [Emphasis added] Part of that public pressure for the APA to disclose its conflicts of interest with pharmaceutical companies was driven by Lisa Cosgrove Ph.D. et al's study of DSM-IV and DSM-IV-TR committee members, which found that of the 170 members, 56% had one or more financial associations with companies in the pharmaceutical industry.  Pharma's psychotropic drug profits have soared commensurately with the increased numbers of disorders voted into the DSM.
Of the 137 DSM-V panel members who have posted disclosure statements, 56% have reported industry ties—no improvement over the percent of DSM-IV members.
Writing in Psychiatric Times (March 6, 2010), Cosgrove and Harold J. Bursztajn, MD, stated: "Although the APA recently announced that it would phase out the visibly industry-supported educational programs, the organization has remained curiously silent about acknowledging and monitoring industry funding of the 2 philanthropic arms of the APA—the American Psychiatric Foundation (APF) and the American Psychiatric Institute for Research and Education (APIRE)."
APF's 15-member board of directors includes 4 high-level executives from pharmaceutical companies that either manufacture drugs recommended by APA (i.e.; in APA's Clinical Practice Guidelines [CPG]) or have products in development targeted for mental disorders.
Other board members include 2 more with industry ties and a senior vice president at one of the largest public relations agencies in the world, whose clients include 6 drug companies.
APF's corporate advisory council comprises pharmaceutical companies that contribute significant funding to APF and manufacture drugs recommended in the APA's CPG; 6 of the companies give $40,000 "and above" per year.
APIRE, like APF, does not require disclosure of financial conflicts of interests, yet 9 of 16 of its board members have industry ties.
At least a quarter of the presenters at this year's APA congress have significant pharmaceutical company ties.
The APA should sever all ties to pharmaceutical company interests. The US Senate Finance Committee has investigated at least a dozen APA psychiatrists over their undisclosed financial ties to drug companies, including:

Investigated – Alan Schatzberg, APA President: Owned $6 million equity in and as co-founder of drug developer Corcept Therapeutics while principle investigator in an NIH-funded, Stanford-based study of Corcept's drug mifepristone. Schatzberg initiated the patent application on mifepristone to "treat psychotic depression" in 1997. In 2008, after months of Congressional scrutiny, Schatzberg stepped down from his position as principal investigator in the study.




Investigated – Joseph Biederman: Chief of the Program in Pediatric Psychopharmacology, Massachusetts General Hospital, he earned $1.6 million in consulting fees from drug makers between 2000 and 2007, most of which was not disclosed to Harvard University officials. In March 2009, court documents showed Biederman promised Johnson & Johnson in advance that his studies of their antipsychotic Risperidone would prove effective when used on preschool age children.




Investigated – Melissa DelBello: Research psychiatrist, University of Cincinnati failed to disclose all her Pharma earnings. In 2002, she was the lead author of a study that reported patients benefited from Seroquel by AstraZeneca, which paid her $180,000. She disclosed receiving $100,000 from the company between 2005 and 2007, but federal investigators discovered it was more than double that—$238,000.




Investigated – Frederick Goodwin: Former NIMH director, Goodwin earned at least $1.3 million between 2000 and 2007 for marketing lectures to physicians on behalf of drug makers, which he did not reveal to the producers of "The Infinite Mind" that he hosted on the National Public Radio during its 10-year run. NPR removed the program.




Investigated – Charles Nemeroff: Perhaps the most egregious case exposed was that of Dr. Nemeroff, chair of Emory University's department of psychiatry and, along with Schatzberg, coeditor of the influential Textbook of Psychopharmacology. He received more than $960,000 from GSK, but reported to Emory $35,000.  He earned a further $2.8 million from various drug makers but failed to report at least $1.2 million. Nemeroff resigned his position at Emory in 2008.




Investigated – Martin Keller: Professor of Psychiatry at Brown University. His (and others') Study 329 (ghostwritten by a GSK rep.) on Paxil use in children allegedly misrepresented data and suppressed information linking Paxil to suicidal tendencies. Keller didn't disclose the full extent of his financial ties with companies to medical journals that published his research. In another matter, following a criminal investigation, Brown University returned $300,170 to the state of Massachusetts for research Keller's department never performed. Keller stepped down as chair of psychiatry at Brown.




Investigated – Augustus John Rush: Former Vice-Chairman of the Dept. of Clinical Sciences at the University of Texas Southwestern Medical Center. He reported only $3,000 of the nearly $18,000 that Eli Lilly paid him in 2001.  Between 2000 and 2007, he failed to report another $12,000 from various drug companies.




Investigated – Karen Wagner: Professor, University of Texas Medical Branch failed to disclose more than $160,000 in payments from GSK, reporting only $18,000. Wagner worked on NIH-funded studies on the use of Paxil to treat teen depression and was a co-researcher on Study 329 (see Keller), for which she was paid more than $18,000. In 2002, Eli Lily paid her over $11,000, which was not disclosed.




Investigated – Thomas Spencer: Assistant Director of the Pediatric Psychopharmacology Unit at Massachusetts General Hospital and Associate Professor of Psychiatry, Harvard Medical School, reportedly failed to disclose at least $1 million in earnings from drug companies between 2000 and 2007.




Investigated – Timothy Wilens: Associate Professor of Psychiatry at Harvard Medical School allegedly failed to report he had earned at least $1.6 million from drug makers.